Backyard Kitchens...

Ingenious ways to convert your backyard into a beautiful kitchen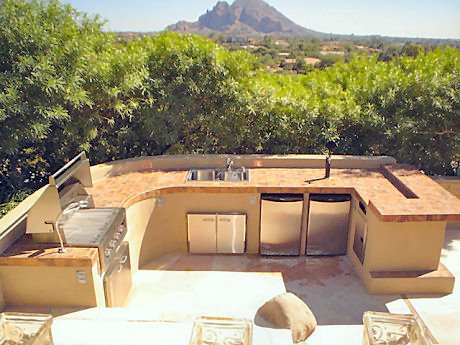 Backyard kitchens, Outdoor kitchens.... call it what you want, but since outdoor cooking became popular a while ago, there has been a lot of development and evolvement regarding the design and utilities used in these kitchens.
In South Africa, where the weather is great and most people are almost always outdoors, these outside kitchens fit into our lifestyle like a well-fitted glove.
Outdoor kitchens has increased in popularity over the years because it used to be quite a nuisance to have the "braai" outside, but the rest of the kitchen inside. Preparing and enjoying meals outside while entertaining friends and family has taken off in leaps and bounds as people realise how appealing the outside cooking adventure can be.
The grill is the heart of the backyard kitchen. You must find exactly the right spot for it and then design the rest of your kitchen around it. You don't want the smoke to irritate your friends or if you have a roofed kitchen, then you must ensure that the hood or the chimney guides all the smoke well outside.
There must also be a lot of work space around the grill where you can fit shelves and place hooks for all the utensils, pots and other paraphernalia that you will use.
If you have a decent size patio or deck already, it is quite easy to incorporate your kitchen in that space, because:
The patio layout already works for you and your family, and it is relatively easy to incorporate your outdoor kitchen plans,
It was designed taking weather conditions into account, and
most of the infrastructure is in place.
All you have to do now is to decide (like with the outdoor kitchen work-space):
If you do not have a deck or patio, then it is actually easier as you can now design your own kitchen from scratch.
Before you start with your kitchen plans, remember to take the following into consideration:
You want your backyard kitchen close enough to the house to easily run your utility lines (electricity, water, gas, and maybe even a phone line),
You must make sure that the area you select is big enough to incorporate everything you want to do in your backyard kitchen as well as all your friends and family you want to accommodate and entertain there.
It is important for you to consider the following points when you plan and design your kitchen:
Position - Consider your privacy when you choose a position for your kitchen. It is no use you have a beautiful spot, but no privacy from the neighbours.
Climate - The primary goal of this kitchen is to enjoy the outdoors, so take the prevailing winds and other weather factors into consideration when you decide on the ultimate spot for your kitchen.
Once you have decided where your kitchen will best fit into your outside space, there are a few practical things to consider.
You must find the closest connection point from where you will run your utility lines. It is best to do this before you dig and throw any foundations. Take care with this aspect, as it will save you time, cost and many headaches later on. It is never nice to dig it all up and move it because you did not consider all options at the design stage. Normally one wide trench can be the starting point and from there some branching off to the end destination points will do the trick.
Remember to dig you trenches deep enough. Rather too deep than too shallow. I always suggest to dig the trenches between 500mm and 750mm. I hate it when one digs in the garden later to plant new plants and suddenly you hit your conduit or electric cables and damage something. Once the trenches are in place, put your conduit in and run your cables and voila..... time to cover the trenches up and once that is done, the serious work on your backyard kitchen can start.
Take the same amount of care when you design your backyard kitchen as you would with your indoor kitchen, for instance:
Do you want a kitchen island or not?
Take a lot of care with your kitchen layout as it is important to have everything within reach.
Your kitchen cabinet designis still an essential part of the functioning of your backyard kitchen.
The kitchen lighting design is also just as important as you would like to create a beautiful ambient in the evenings.
I think you get the drift of how to go about the design of your backyard kitchen.
One important thing to remember is that many countries need permits and building plans for outside structures. Here in South Africa they are not to strict with stand-alone walls and wooden structures, but once you put a roof over your backyard kitchen, you will need approved kitchen plans.
Please make sure you follow all the rules and regulations as it is heartbreaking to finish your project on time and within budget only for the city counsel to instruct you to break it all down again.
Home Lovers Motto
To encourage, to motivate, and to help home owners to find
great home improvement ideas -
To change from the house you have to the home you love!
---
Return from Backyard Kitchens to Do It Yourself Kitchens