Improving your Home?
Are You a Home Owner That Wants to Find Ideas for
Do It Yourself Home Improvements that will
really increase the value of your home?

Are you into DIY and Do It Yourself Home Improvements? Maybe not so much DIY in the sense of "how to" do it ALL yourself; but you definitely want to be involved in the process?
Maybe you want to design your own kitchen?
Maybe you love landscaping?
Maybe you want to fit new CCTV cameras for the safety of your family?
Your home is where you spend most of your time, and which you share with family and friends. Your home needs to grow and change with you and your family as your needs change, and it is an asset that needs constant up-keeping for it to increase in value over time.

For those reasons it is important that we, home lovers that can not always afford expensive architects and building contractors, to be constantly on the lookout for new home improvement ideas which we can implement ourselves, with the help of certain specialists, to increase the value of our homes.
If this is you, then my Home Lovers guide will give you, the enthusiastic "DIY" home owner, some great ideas to implement with a well-defined plan in mind, so that your new investment will have the greatest impact on the value of your most cherished asset....
- your own home -
One of the biggest cost savers in any do it yourself home improvements project, is by being the project manager. Now you, instead of a contractor, arrange the materials, and schedule the work, and make sure everything happens on time, and in budget. This can easily result in savings of 20% or more.
This is the part of do it yourself home improvements that I love most.
I love to oversee the work; to make sure all the materials are available when it should be; to keep an eye on the sub-contractors, and ensure that everything is done right. Like I said before;
Who's home is it anyway?
Who will take the greatest care with each detail?
Only YOU!
It is possible to be involved in do it yourself home improvements, even though you are NOT a handyman. I am definitely not one, but I love to be involved in upgrading my home:

to make my stay there more enjoyable, and
also to ultimately increase it's value.
I want to stress again that I am not going to show you "how to" tile the bathroom floor or give you a step-by-step guide on how to tile your bathroom floors, or wire a three-way switch. No, there are many other do it yourself sites that can show you that type of detail, and I will guide you to them in due course.
No, what I want to show you with these do it yourself home improvements pages are the following:
How to

evaluate

new ideas that will increase the value of your home, and
How to take those ideas and implement them; whether you do it all by yourself or whether you use some help.
I want to show you which ideas, when implemented, will really make other people admire your home.

---
Do It Yourself Home Improvements - Evaluate the best Ideas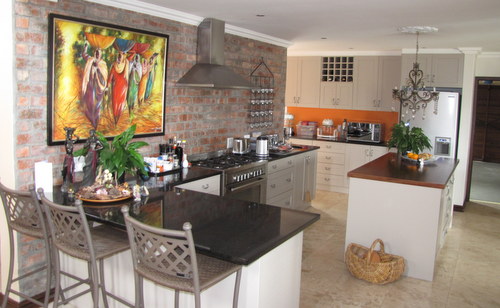 There are certainly do it yourself home improvements that will give you a lot more bang for your buck. A new, modern kitchen will have a lot more impact on the value of your home, than adding a water feature on the patio.
Keep in mind however, that smaller home improvements cost much less, and take less time. Therefor you can do a lot more of them, and for that reason, over time, there are many advantages to doing the little things around your home.
Although the water feature may not add 20% to the resale value of your home, it definitely makes a big impression on any potential home buyers, as well as your family and friends.
The first home Linda and I put on the market was sold even before our buyers went inside. They were so flabbergasted by the stunning landscape design, and the atmosphere we created in the front garden, that they made an offer that same evening.
Decide on what you want to achieve, evaluate all the ideas, and then determine if it will fall into your budget. That way you can prioritise your home remodeling projects.
Objective
The trick for any DIY enthusiast is to know enough about the do it yourself home improvement project (big or small) you want to undertake, in order for you to plan, and manage the tasks you are not going to do yourself.

The scale of the home renovation project will determine the effort you have to put into the planning stages.
You need to know when you need to bring in the help of contractors, and you need to familiarise yourself with the different aspects of their trade. In this way you will know what they (the contractors) have to do (or are supposed to do) to make your home renovation a success.
Sometimes we may think someone is a "specialist" just because they do the job for a living, but experience has shown me that it is not always the case.
Whose home is it anyway…..?
Who is prepared to go the

extra mile

(or take that hour longer) so that the job is done perfectly?
Only you…… it is

your home

, your castle, your "pondok" as we would say in Afrikaans.
Plan your project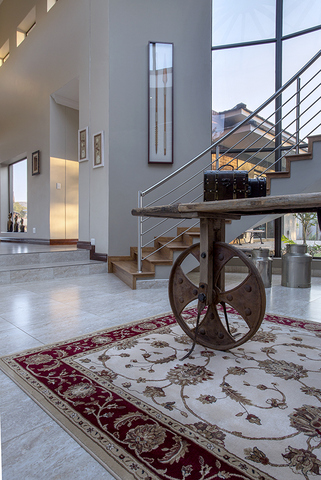 Major do it yourself home improvements, and home makeovers can be a nerve-wrecking experience, but if you follow the planning advice here, it will make your life a lot less stressful. With every home renovation you implement yourself, you will have stress. That is something none of us can deny, but the idea is to minimise the stress by following this proven recipe.

Break the work down into manageable steps or work packages, and determine exactly how you are going to go about your project.


Assess your needs and wants for each project. Prioritise your needs and implement them with care, and I promise you you will add character and value to your home.


Get some help if you feel overwhelmed!
Building work has a lot of logistical problems that must be overcome. The first hereof will be to determine if you require planning permission, with approved building plans. If you do, then I suggest you get some help. This is really not something you want to get involved with. Especially if you live in a third world country like South Africa with all the red tape and delays in the process. It will break your speed early on in the process.
The following four categories of work normally require planning permission, and building regulations consent:
Garages,
Major external work,
Extensions, and
Loft conversions
Architects, engineers and draughtsman know what is required to obtain full planning permission. They know which building regulations are applicable to your area.
Use them,
This is what they do. 
TIP: Never start your home improvement project if all the official paperwork is not in place. I have personally experienced the heartache of that. Building inspectors may force you to break down your new garage if you started the building work before all the paperwork was approved.
Contain the Cost - Obtain Quotes
To find the best sub-contractor for the job, you first need to obtain some quotes. There are certain rules to follow in order for you too be able to compare quotes with each other. Give each sub-contractor the same set of documentation to quote on:
The same plans,
the same drawings, and 
the same specifications for the tiles, the fittings, etc.
Ask them to break down the quote into it's different elements. For example; ask them to quote for the electrical work, the kitchen tiling, and the kitchen cabinets separately. That way you force them to think and plan the work. Contractors tend to over-quote if you do not ask them to break the project down into work packages. In this way you can compare quotes with each other; you can compare apples with apples. It is very difficult to compare quotes otherwise, as each contractor tend to "load" their profits and overheads on different aspects of the project.
Keep in mind that certain contractors may be more expensive because their standards are higher, and they may use better quality materials. Get a "feel" for the person before you accept a quote. The cheapest contractor is not always the best. 
Now you will have a clear understanding of how much each aspect of your project will cost. 
Another big advantage of doing the costing with larger do it yourself home improvement projects in this way, is that you can plan the cash-flow in advance.
By taking the project step-by-step and by paying as you progress, the chances that you overspend on your budget are far less likely.
More cost-saving exercises
The following are areas where you can definitely save additional costs:
Remove certain elements of work which you can do yourself, like taking out the old kitchen cabinets. The sub- ontractor will most assuredly "load" this task with profit as it is a waste of his time.
Do your own decorating and painting,
Supply the sanitary ware yourself,
Do certain work packages yourself. Maybe you love to do tiling, or you want to learn it as a skill, then remove it from the quote. That way you will save a lot of money.
Draw up a timetable
It is very important to allow enough time for the project, without letting it drag out unnecessarily.
How many times in your life have you heard the following?
My renovations took months longer than what I thought it would, or
It cost at least double what I budgeted for.
Draw up a timetable of things to be done. Do not worry about the actual timing of each item. The purpose is to get a format that you can work with, and that you can adjust, and update as you continue.
This will give you an idea of the time it will take, and the sub-contractors can see that you are serious about timescales. Overspending is mostly caused by bad time management, as it costs more and more the longer the project gets dragged out unnecessarily.
Feel free to leave me a comment below and share your latest do it yourself home improvement project with me.

---
Do it yourself home improvements that will have the
most impact on the value of your home
---
Home Lovers Motto
To encourage, to motivate, and to help home owners to find
great home improvement ideas -
To change from the house you have to the home you love!
---