Kitchen Decor Design.....

I like my kitchen best
Kitchen Decor Design.... since the kitchen is the main attraction in your home (it is, I am sure of that), it seems that at even the most formal parties, people like to gather in the kitchen. As your kitchen is the centre of family (and friends) activity, it is imperative to make it a decorating priority.
There is a difference between kitchen decor design and renovating a kitchen. There are many things that you can regularly do to your existing kitchen to make it more appealing and a pleasure to use without breaking the bank.
Doing a kitchen decor design project for the first time may seem overwhelming, but it is a wonderful way of sharpening your teeth for the ultimate in kitchen design, the complete makeover.
All kitchen decorating projects, whether it is your first one or not, will take time, some money and a great deal of thought. But above all, it should be fun and enjoyable. There are absolutely no hard and fast rules about what decorating ideas you can implement. This is the perfect opportunity to make the kitchen unique to you.
When it comes to decorating, there is only one person's opinion that counts (well, maybe I should say one family's opinion, as in my opinion, all decorating projects should be a family affair. How better to unite everyone in the family in a combined project like this).
With all the information available on the internet, and countless places to go for products and ideas, there has never been a better time than now to undertake a kitchen decor design project ~ sources are abundant.
Use the guidelines I give you here to make informed choices. What you ultimately choose to do is up to you! I am not going to make the decisions for you. After all, if there is one place where you deserve to have the final say, it is in your own home.....
Your home is where you spend most of your time and which you share with your family and friends.
Your home is something that grows and changes with you and your family as your needs change.
Your home is also an 

asset

 that needs constant up-keeping (and new decorating ideas) for it to improve in value over time.
The most dramatic, easy and cost effective way to decorate an old kitchen is by painting the walls and cabinets. Using paint is a simple and inexpensive way to produce a totally individual and customised look. From traditional to french, decorative to stylish, virtually any effect you desire can be achieved with a little bit of paint and the right tools for the job.
Given the modern materials available today, the versatility of paint and the knowledge of how to use material and paint to create beautiful effects, a little time and effort is all you need to achieve the style and finish you want.
So let's see what ideas I can entice you into trying:
If your kitchen doesn't have a backsplash behind the counter tops or the sink, install ceramic tiles or natural stone. This creates not only a focal point, but upgrades the look of your kitchen instantly.
Paint the insets of your kitchen cabinet doors a colour that contrasts to the rest of the kitchen.
Buy new knobs and drawer pulls that compliment your new decorating scheme.
If your kitchen appliances are all different colours, find a professional company that spesialises in this type of work. Have them resprayed red or lime green. White appliances can be so boring and outdated. Imagine the decor statement you can make with this.
Hang a beautiful art work against the wall and make it a focal point.
Create glass-front cabinets by replacing the centre panel with sandblasted glass. 
By implementing any (or all) of the above ideas you immediately change the overall look and feel of your kitchen and it adds such a lot of value to your home.
---
Kitchen Decor Design..... proper lighting techniques
Once you have done the kitchen decor design; you have painted the walls and the kitchen cabinets, added pictures and/or ornaments, good lighting is the next investment you should consider.
Your new kitchen decor design will look so much better if you replace the old fluorescent lights with a layered approach.
In eras gone by, the single, lonely ceiling light might have done the trick, but in today's kitchen this will not do at all. Today, we use many different techniques to "light up the kitchen," so to speak.
The most effective lighting for a kitchen is to combine task lighting with ambient and accent lighting to create a warm and inviting atmosphere while accentuating your new kitchen decor design and focal points.
---
Task Lighting
Task lighting is used to illuminate specific work areas. It is an integral part of preparing your meals and needs to be well positioned and planned.
Misplaced task lighting will irritate you endlessly if it creates shadows exactly there where you need to see well. Task lighting is perfect for over the kitchen island where you slice, dice, and chop.
It also goes very well under wall-mounted overhead cabinets where you need focused lighting. Place under-cabinet light fixtures to the front of the cabinet to ensure even distribution over the counter tops.
I also suggest that you add a dimmer switch to your under-cabinet lights. Then it acts as soft ambient light to give the room a warm glow. The different levels of light add depth and makes for a cosy atmosphere to your kitchen decor.
---
Ambient Lighting
Ambient lighting is a very important layer to the overall effect of what you want to create in your kitchen. It is indirect and softens the lines and shadows and adds to the warm glow in the kitchen.
Soft ambient lighting attracts people and contributes to the warm, friendly feel that you want to create in the kitchen. People will enjoy many wonderful hours with you around the kitchen island sipping on their wine and chatting away.
---
Accent Lighting
Then last, but not least, is accent lighting. This is where your new kitchen decor design will be brought to light.
Where you can really show off your decorating techniques and accentuate your skills.
It is not a common layer of lighting used, so if planned well and situated properly, it can make a dramatic effect.
Say you have added a piece of artwork, as Bernice has done here in her kitchen, then a well-placed light makes this a decorative focal point.
I can promise you, it looks stunning at night when all the other lights in the room are dimmed.
You can also use accent lighting to highlight the stunning features of a beautiful splashback behind the kitchen sink.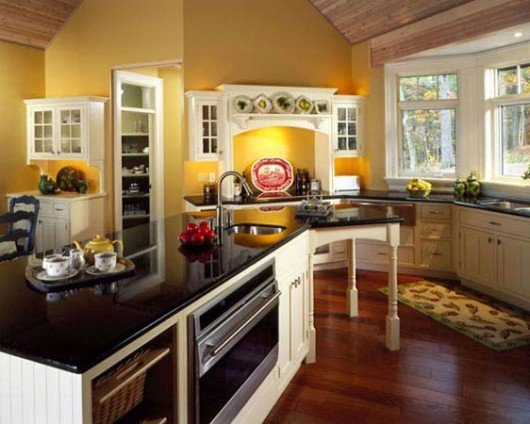 ---
Return from Kitchen Decor Design to Design Your Own Kitchen