Patio Deck Designs...

a fluid flow from indoors to outdoors
The combination of patio deck designs allows you to make a wonderful flow from indoors to outdoors by using the different elements of wood, concrete or brick to create a special and stunning effect. The combination can be much more interesting than either just a deck or just a patio. The deck leads to your outdoor space while the patio is the actual area where you spent your time outdoors.
Decks and patios are all about using your outdoor space to the max. If you are fortunate enough to live in an area where you have stunning views, then it is imperative that you make use of the outdoor spaces available to create beautiful outdoor living areas.
It doesn't matter whether you live at the ocean, have views of the mountains or a lake or if you just want to spent time in your garden, the combination of a patio, with its different designs and a deck just add a different dimension to your outdoor experience.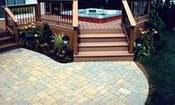 The purpose is to add value to your home..... not only for you to enjoy with family and friends, but also if you ever intend to sell your home to some other lucky family. By just creating stunning outdoor areas, the value of your home increases dramatically.
The combination approach is most useful if you live on a dramatic slope or if your home has different exits on different levels, each leading to an outdoor space. Creative patio deck designs can combine the levels for optimum flow from one level to the next.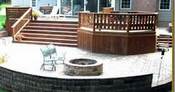 The combination approach however is also a stunning way to combine different design concepts. The combination just gives you many more options and you can create distinct spaces, each with it's own character. You can really create beautiful transitions from one to the next with beautiful contrasts. Combining these and add your view to it and you have really added value to your home while creating outdoor living areas where family and friends can enjoy years of wonderful times together.
---
Home Lovers Motto
To encourage, to motivate, and to help home owners to find
great home improvement ideas -
To change from the house you have to the home you love!
---
Return from Patio Deck Designs to Outdoor Patio Ideas