Galley Kitchen Design...

Use these clever, creative design ideas when planning your galley kitchen
OK, whether you are here exploring galley kitchen design ideas out of necessity, because your kitchen space is limited, or whether you are here because you just love the efficiency of a galley kitchen, you will find some great tips and advice on what to look out for when you plan and design your new galley kitchen.
Fact is..... We all love a big, sprawling kitchen with lots of space where we as family and friends can sit for hours discussing the problems of the world while we prepare lovely dinners, but the reality is that most of us city folk have smaller apartments and this is where a well designed galley kitchen really can make all the difference to your kitchen space.
Many people love the galley kitchen layout..... not only for its ease of use, but also for its efficiency, and with clever planning, the challenges of limited storage and space can easily be overcome.
Just as in any other home, the kitchen still forms the centre of your home and is an important part of your living space.
---
Galley Kitchen Design... when it comes to kitchens, bigger isn't always better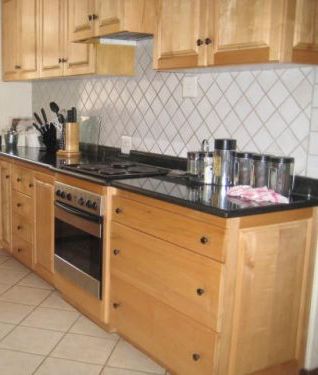 Just because you can not entertain in the kitchen does not mean that it should not still be stylish and functional.
Remember that the use of space and efficient layout is more important in a galley kitchen design than in a bigger kitchen.
The key is to not cram too much stuff into the little space you have.
Use only the essentials - a stove, a sink, a fridge - and then consider these clever ways to incorporate everything else you need:
Clean lines work best in a galley kitchen design. To create the illusion of more space, reduce the number of visual elements by using simple cabinet styles.

With clever design, a galley kitchen can hold a surprising amount of essentials. Use redundant space for storage.

- Fit a book shelf above the fridge for your cookery books.
- A drop down spice rack close to the stove for easy access and then when you are finished, it folds neatly away.


Use pull-out or sliding doors instead of swing doors as it takes up less space.
Mount as many things as possible

against the walls.

Find kitchen designs that double up, for instance the sink can be topped with a fitted chopping board to create extra work space.
---
Expand the available space.....
There are ways to "expand" the visible space to make your galley kitchen appear bigger and less cluttered.
By raising the ceiling a little, you can create the illusion of a bigger kitchen with the extra height.


Clever storage - If you can not fit many units, then use the walls, the window sills and the space above the fridge. Even the window can be used - fit glass shelves for a see-through solution. Or open shelving as the traditional running cabinets tend to make a kitchen feel crowded.


Create a View - Explore the possibility of using glass for a kitchen wall or ceiling. This creates the feel of space and allows lots of natural light into your kitchen. A wall to wall or floor to ceiling window - overlooking the garden or the courtyard - makes a small space seem much more spacious.


Invisible solutions - It is important that you think carefully about your small kitchen design and use as many pull-out and fold-away features as you can. There are really clever designs available nowadays and anything hidden away when not is use is a real asset in a small kitchen.
---
Cunning visual tricks to make the kitchen appear bigger.....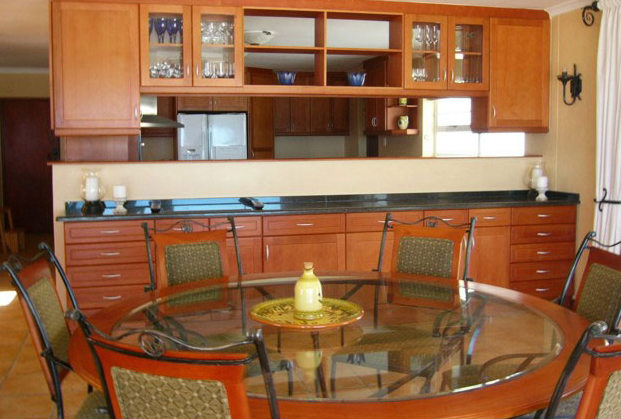 By using cunning visual tricks when you do your galley kitchen design, even the smallest kitchen can seem bigger than what it really is.
Here are a few clever tricks to make the space in your kitchen seem bigger:
Use bright colours - bright colours and shiny surfaces - glass or gloss paint - will give the impression of space. See how the owner used glass to make this kitchen seem so much bigger. Do not use too many colours. This just emphasise the room's lack of space. Restrict your palette to three colours maximum.


Extend into the next room - if at all possible, extend your galley kitchen into the adjacent room. Open up the area and extend the flooring and the wall colouring into the other room. This tricks the brain into thinking that the area is bigger than what it really is.


Clever lighting arrangement - Use recessed and task lighting to highlight certain areas and the clever use of lighting effects always create the feeling of space, so use your imagination.


Look for smaller appliances - look for smaller than standard kitchen appliances. This also helps to trick the brain into thinking that the space in which the appliances are fitted is bigger than what it really is. Nowadays one finds anything from a mini dishwasher to a two plate stove.
Even though you may not have a big, expanded kitchen, these ideas will help you to create an efficient galley kitchen design and a space where you and the family can have wonderful and memorable times.
---
Return from Galley Kitchen Design to Design Your Own Kitchen