Improving Your Home?
Use this Kitchen Island Design Ideas for some wonderful inspiration.....
Kitchen Island Design Ideas...... OK, so you are convinced and have decided your kitchen needs an island.
A kitchen island can handle a multitude of tasks if one designs it for versatility and convenience.
While planning and researching the best kitchen island for your specific requirements, consider the following and then see how a relatively small area can function as:
A well thought out and practical kitchen island is one of the most sought after features in a home.
That is why it is so important to take your time to plan and really think about which kitchen island design idea will work for you in your kitchen.
Kitchen Island Dimensions.....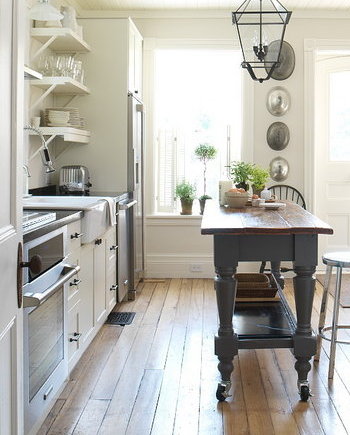 Although there is no set island size, your kitchen layout, efficiency and comfort will guide the size, height and placement of your island.
To promote the family's traffic flow and keep everyone out of each other's hair, keep aisles at least 1.25m (about 4 feet) wide between the island and the cabinets.
It is very limiting if one can't move freely around the island, so I always suggest this width, even when there is only one cook and not much traffic.
You never know what the future holds for the family..... wink, wink!
This small, narrow island has only one counter top level, but as you can see, it has wheels to be moved around for comfort and convenience.
If you have a big kitchen, you may want to consider to install two separate islands. This has a massive visual impact and it also makes it easier to move around the kitchen. An island with a healthy girth forces the cooks to do a lot of unnecessary walking.
Build-in Islands.....
It is important to define the purpose of your island before you finalise your kitchen island design idea.
If placed in the right position in your kitchen, a build-in island brings a lot of added benefit to your kitchen.
A build-in island can be fitted with a stove or sink, so that you can even achieve the triangle design of sink to stove to refrigerator which is still one of the best kitchen design ideas.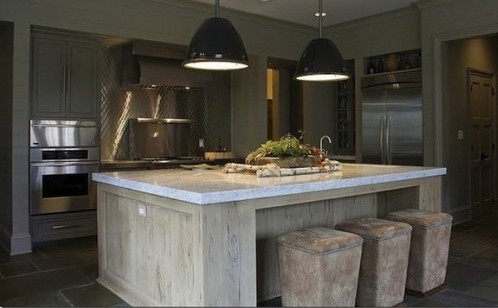 A build-in island can also include appliances and fixtures like:
a dishwasher, or
a microwave

,

a wine rack, or even
a freezer, or anything else that you may find handy there.
These fixtures and appliances can make your kitchen island a dynamic space in your kitchen. Just remember that appliances and fixtures need accompanying plumbing and electrical outlets.
Don't let the placement and installation of these be a design afterthought. It will cost you dearly....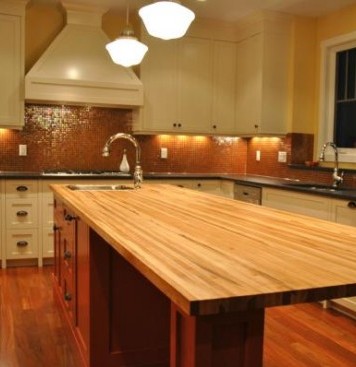 When you consider your kitchen island design idea, think about convenience and efficiency. An island is always used for food preparation and cooking, so consider comfort when you determine the counter top height, levels and overhangs.
If you love a big chunky base, then allow for even more overhang as you will get a constant nagging from the kids that they hurt their knees....once again!
Or they just cannot get close enough to their plate..... nag, nag, nag!
Just joking, but it is important to have enough overhang if you plan to use the island as a dining space too.
With a build-in kitchen island, it is very important that you take time to think and consider the following:
the dimensions,
where to position it,
how to configure the layout,
how you want the lighting to accentuate your kitchen island, and
what the height should be.
Floating Islands.....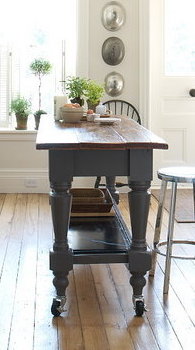 If you have a small space, a limited budget, or your kitchen style lends itself towards it, a floating or movable island may be the answer for your kitchen.
An antique kitchen table can be a perfect centerpiece for a traditional kitchen. It can be used for food preparation, as a dining area or for mom's admin tasks every day.
Just because it is not build-in, doesn't mean it is not as practical and usable as a build-in island. It just has a different purpose.
The two main purposes of a floating island is:
It therefor doesn't normally have electrical outlets or plumbing, so it can be easily moved if required.
A move-able island also leaves a much lighter footprint than a fixed island.
Multi-function Islands.....
There are no set rules when it comes to kitchen island design ideas, but efficiency and comfort should always guide you in this respect.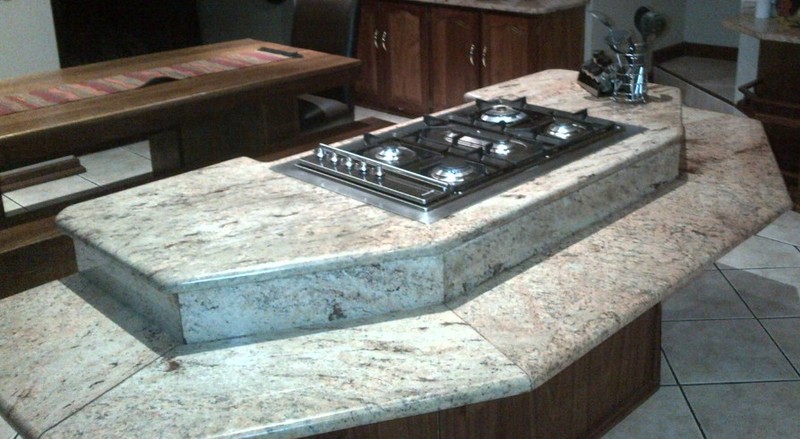 The island can also have several levels, depending on the functionality you require.
Normally the height of the kitchen island counter top is between 900mm (about 36 inches) and 1200mm (about 48 inches). So if you do have a multilevel counter, it will be wise to have the one at the higher level and the other at the lower level.
Your smaller kids can then also enjoy the island too; whether as cheap labour, (only joking) or to do their homework or their playing.
The lower counter top can also act as a pastry-making surface.
Kitchen Island Storage.....
The all-sides-available feature if a kitchen island allows for a lot of storage space for different needs.
Consider a combination of storage spaces:
Dedicate the non-storage sides to dining space with a sufficient counter overhang and decorate the sides with decorative panels, tiles or beadboard.
And then.....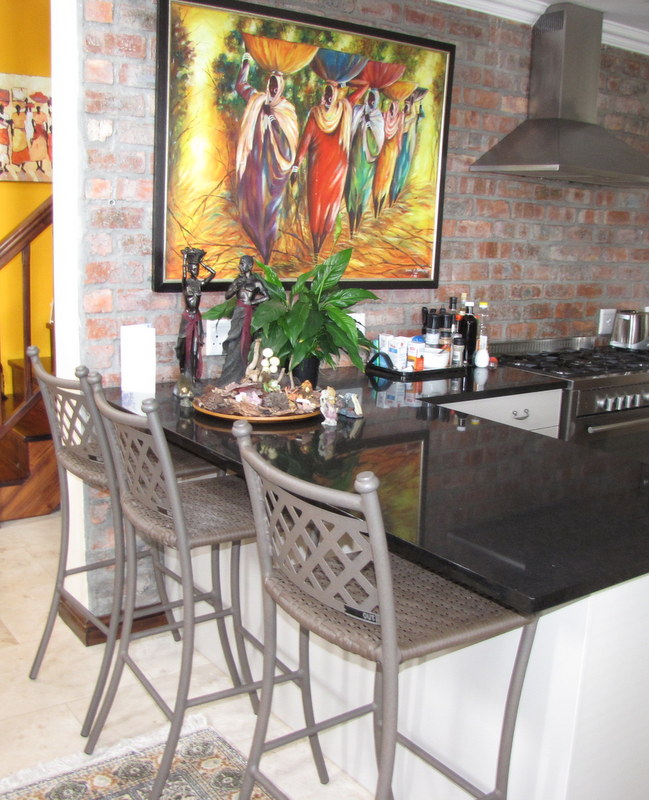 There is truly an amazing amount of fun that can be had when exploring and researching your kitchen island design ideas. For that reason I believe it is something everyone should do themselves..... at least once in your DIY experience.
BUT, it is always wise to ask your local kitchen design consultant for advice, as they should have some useful inputs, but it is important to listen objectively to their advice.
There are many styles and materials to choose from and it is not a cheap exercise, so:
Chose the style that you like, and that will add real value to your home.
Keep in mind what your requirements are, and always, but always,
Select the highest quality materials that you can afford.
Good quality and a proper kitchen island design idea, well executed, is what adds real value to your home and that is what we want to achieve!
---
Return from Kitchen Island Design Idea to Design Your Own Kitchen