Pool Landscaping Ideas.....

to create an oasis of tranquility 
The pool landscaping ideas on these pages will give you some wonderful ideas to enhance you and your family and friends' experience around the pool.
A swimming pool is the social centre of your outside entertainment area, and in today's hectic life, it is so important to create a tranquil environment where you can switch off whenever you want to give mind, body and soul a chance to recharge.
The outdoor entertainment area is almost (yes, I say almost) more important in aesthetic design as the indoors. Outdoor entertaining around your pool can be a truly luxurious experience for you, your family and friends, so turn this area into an oasis of tranquility, with your pool as the centre piece.
For me, these pool landscape areas create the atmosphere and type of family gathering places where I love to make many, many good memories.
And remember, if you ever want to sell your home, the way you implemented your pool landscaping ideas will make a tremendous impression on the mind of prospective buyers.
These are the types of special places they will remember of your home and I promise you, that is the type of thing that makes the decision just so much easier for them. It is always an emotional decision; which house to buy........, so if your pool landscape design and the implementation thereof creates the "whoa" effect, your home is as good as sold.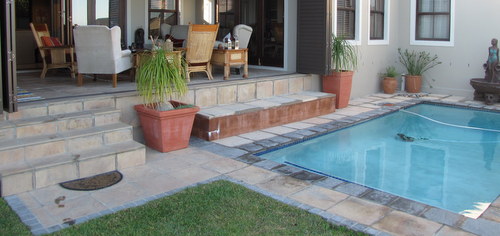 A swimming pool is the ultimate garden and landscape amenity and it adds just another dimension to the experience of the inhabitants of the home. The sound of children laughing and playing......pure bliss!
That is why it is so important to make your pool the focus of the garden landscape. So include water features, rock, plants and special design features with some unique lighting techniques to enhance those blissful  calm evenings around the pool.
Just look at the design features Helen brought into her pool area and the tranquil effect the plants and the lighting create.
Just a cautionary reminder. Water is essential to ALL forms of life. If they don't get enough of it, they die.
PLEASE never ever waste water!
Contemplate the following points when you think about your pool  landscaping ideas.....
---
The Design.....
Always remember that the pool is just a part of your bigger landscape design. If you have a pool already and you want to implement new and fresh pool landscaping ideas, then think, think, think, before you do!
The flow of the pool and the landscape is important. There must be cohesion between the two......remember what you want to create here......an oasis of tranquility.
It should enhance the lifestyle of your family, so the planning and the design is absolutely vital.
Integrate the two...... use the pool and the landscape to compliment each other. Pools are an expensive investment; a part of your home and what you implement now will stay with you for a long time, so make it timeless. It should fit into your family's lifestyle and enhance your pool experience......now and for many years to come
Always use the best quality material you can afford. It is no use to try and "save" a few cents when it comes to implementing your clever pool landscaping ideas.
Quality shows and that is what really adds value.....not only to your  experience when you enjoy your pool and the landscape you created around it, but to all who enjoy it with you.
Everyone will sense that quality and that is what makes the difference between mediocre and excellent pool landscapes.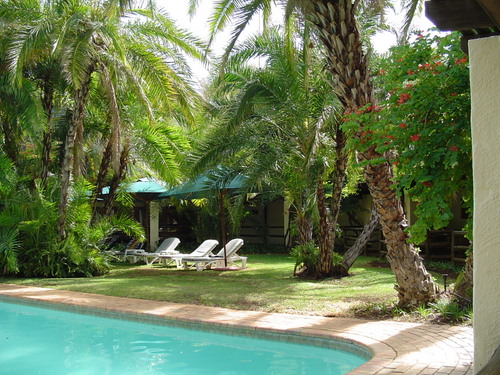 ---
The View.....
Apart from making the pool the focus point of your landscape, it is also important to keep safety in mind at all times.
Kids just love water and pools attract them like moths to a candle. But not all kids can swim, so make sure that your pool is NOT easily accessible to them and visible from wherever the parents are congregating so that they can keep an eye on them.
You should have a clear unobstructed view of the pool from your observation point at least.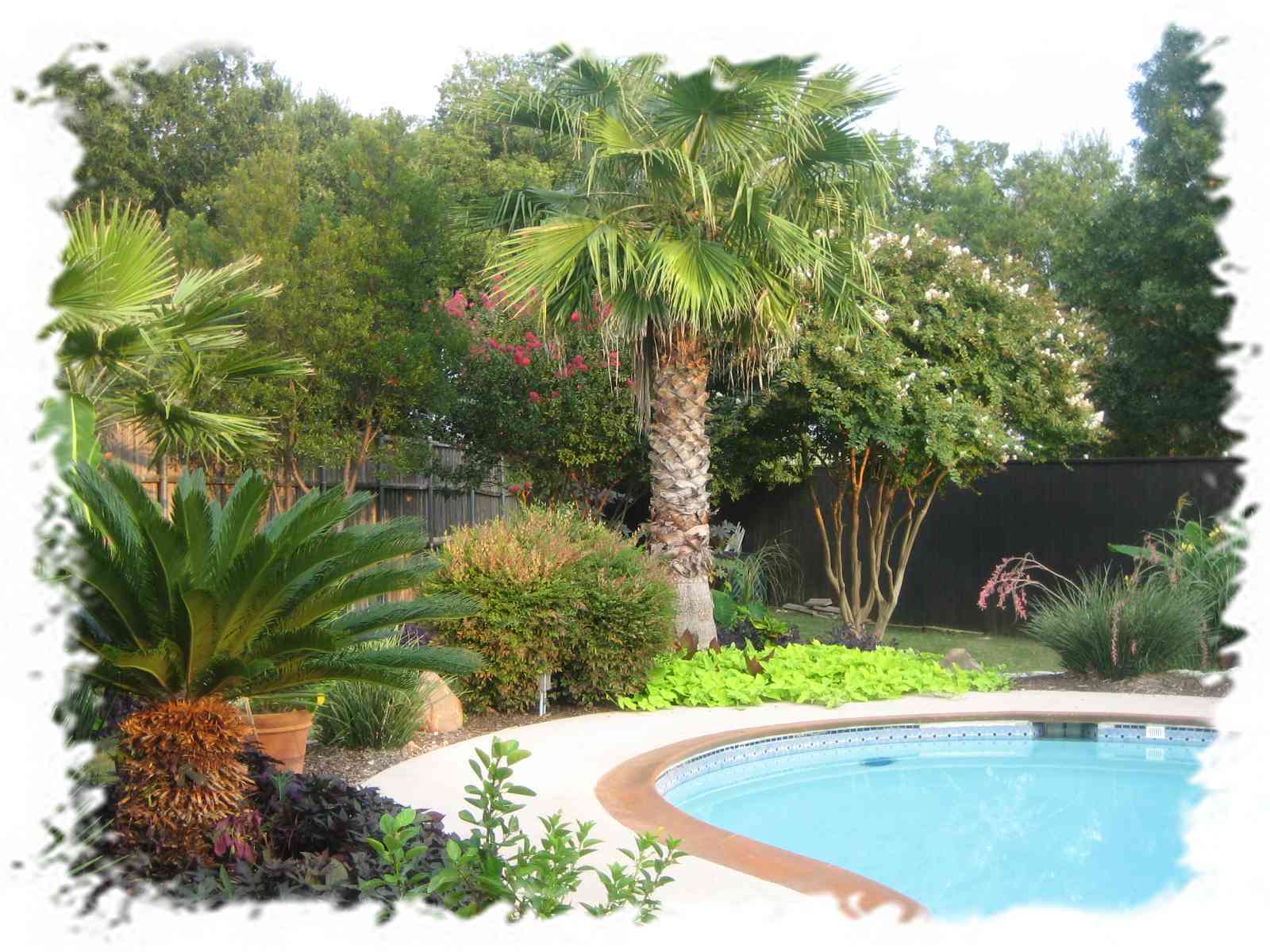 ---
The Atmosphere.....
Pool landscaping provides you with an opportunity to create something spectacular to add to the views from your home. Rock gardens, water features, plants and colour can be blended into the landscape for maximum impact.
It may be worth your while to use a designer when planning and designing your pool landscape, as experience comes in handy when you implement your design.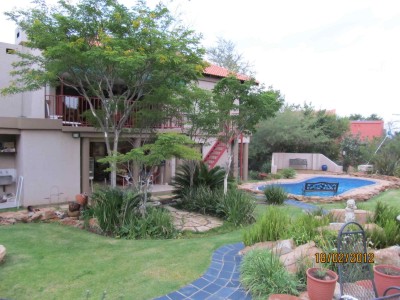 Your lifestyle and your environment will obviously have the biggest impact on what you include in your pool landscaping ideas. The key to a great outdoor space is to make it comfortable and inviting..... a place everyone wants to come to but no-one wants to leave; a real retreat.
Outdoor entertainment areas can be (actually should be) luxurious and is a convenient way of entertaining friends and family. It is a place where you make life-long memories, so include an outside "braai" area (barbecue for the people that are not from South Africa). It can be basic, or it can be a gourmet kitchen, but what is important is that it should contribute to the atmosphere you want to create around your pool.
Make use of water features to create a tranquil environment. With our modern and rushed lifestyles it is important to bring tranquility back into our everyday lives. Nothing is better than the sound of trickling or running water.....
Water features can create a very inviting sanctuary to strengthen mind, body and soul after a hard day at the office.
For atmosphere, I also like the idea of combining lush plants with rock and pebbles. The combination creates that far-away vacation feeling which all contributes to a feeling of a sanctuary with tranquil, relaxing properties.
---
Return from Pool Landscaping Ideas to Do It Yourself Landscaping