Small Kitchen Design...

Canny visual tricks to make your small kitchen space seem bigger
Clever small kitchen design tricks are extremely important If you live in a small home or apartment, like many city folk do. Just as in any other home, the kitchen still forms the centre of your home and is an important part of your living space.
Just because you can not entertain in the kitchen does not mean that it should not still be stylish and functional.
Remember that space and layout is just as important in a small kitchen as in a bigger kitchen.
---
Use the tiny space efficiently
Many of us cook in teeny-weeny areas, and by using these small kitchen designs and clever ways shown here, you can create an efficient mini-kitchen where you can have lots of fun preparing your daily meal. The key is to not cramp too much stuff into the little space you have.
Use only the essentials - a stove, a sink, a fridge - and then use these clever ways to incorporate everything else you need:
Keep things simple and open. To create the illusion of more space, reduce the number of visual elements by using simple cabinet styles.
Use redundant space for storage. Every available inch must be used. Fit a book shelve above the fridge for your cookery books.
Use pull-out or sliding doors instead of swing doors as it uses less space. Or even better still, remove the cabinet doors to avoid a boxed-in feeling.
Mount as much stuff as possible against the walls

.

Find kitchen designs that double up, for instance the sink can be topped with a fitted chopping board to create extra work space.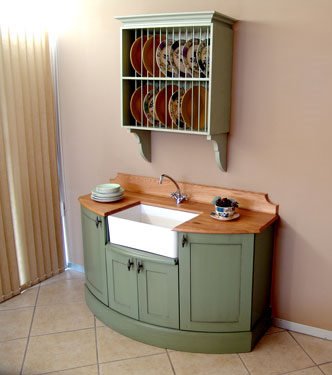 ---
Expand the available space
There are ways to "expand" the available space that you have to make your small kitchen design seem bigger and less cluttered and to give you that extra bit of room required to work comfortably:
Rationalise the appliances - minimise the amount of things you keep in the kitchen. Place appliances in a store room, cellar or even the garage if it is convenient enough to get there. Utensils less used can be stored in a cupboard under the stairs and cleaning stuff can also go in the bathroom or storeroom.

Clever

storage - If you can not fit many units, then use the walls, the window sills and the space above the fridge. Even the window can be used - fit glass shelves for a see-through solution.

Use

glass - Explore the possibility to use glass for a kitchen wall or ceiling. This creates the feel of space and allows lots of natural light into your kitchen. A wall-to-wall or floor to ceiling window - overlooking the garden our the courtyard - makes a small space seem much more spacious.

Invisible

solutions - It is important that you think carefully about your small kitchen design and use as many pull-out and fold-away features as you can. There are really clever designs available nowadays and anything hidden away when not is use is a real asset in a small kitchen.
---
Cunning visual tricks to make the space seem bigger
By using canny visual tricks when you do your small kitchen design, even the smallest kitchen can seem bigger than what it really is.
Here are a few clever tricks to make the space in your kitchen seem bigger:
Use light colours - light colours and shiny surfaces - stainless steel or gloss paint - will give the impression of space. Do not use too many colours. This just emphasise the room's lack of space. Restrict your palette to three colours maximum.
Extend the space - if at all possible, extend your small kitchen into the adjacent room. Open up the area and extend the flooring and the wall colouring into the other room. This tricks the brain into thinking that the area is bigger than it really is.
Buy units on stilts - being able to see the floor running underneath the unit makes the room seem less cramped and makes for easy cleaning too.
Look for diminutive appliances - look for smaller than standard kitchen appliances. This also helps to trick the brain into thinking that the space in which the appliances are fitted is bigger than what it really is. Nowadays one find anything from a mini dishwasher to a two plate stove.
Also use the above tips, hints and ideas when you plan to remodel your kitchen and you you feel you need some clever small kitchen remodeling ideas.
---
Return from Small Kitchen Design to Do It Yourself Kitchens