Traditional Kitchen Design.....

To find a balance between old-world charm and a modern lifestyle
Traditional Kitchen Design..... OK, so you have been through all the kitchen layouts and styles and you have decided you want a traditional kitchen.
You have enough space and you just love the warm and homely look and feel of these kitchens.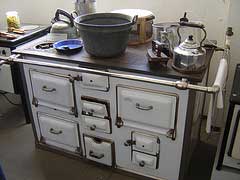 This kitchen style will provide your home with character and add a lot of value.
Traditional kitchens remind me of the kitchens of yesteryear on the farms in the South African Karoo, where my grandparents used to live and where I visited during holidays.
A big, cosy room with a central coal stove where everyone gathers to drink coffee and eat their meals and just spend time together.
Where a family shares their secrets, their dreams, their heartaches and their triumphs.....
In today's hectic lifestyles it is important to have a place where the family can come together to chat, or have a cup of coffee, or just to sit and relax while we all prepare a meal together after a hectic day. And this is where the traditional kitchen design ticks all the boxes.
The wonderful thing about traditional kitchen designs nowadays is the fact that we can combine that old-world charm with our modern needs for convenience, beautiful appliances and stunning lighting designs.
Then add some of your personality, paired with a designer touch to get the modern feel, and you will have something special and unique. A well thought out and practical kitchen is one of the most sought after features in a home.
Do you remember the old  AGA coal stoves? Well, today you find the modern version of them and it is an amazing addition to any traditional kitchen.
And as I say throughout this website..... the ultimate goal when you do any home improvements is to add real value to your home.
Traditional Kitchen Design..... mix the romantic with modern conveniences
The most important thing here is to use natural materials together with warm, rich shades of colour to make it a welcoming kitchen space for family and friends.
---
Traditional Kitchens..... the design and layout
Remember, traditional is not a specific style, like modern, or eclectic, but when I hear the word, I immediately think:
Comfort and warmth are the key aspects of a traditional kitchen design. So you can build your own specific style. There are no rules here.
A serious traditional kitchen will have free-standing tables and cabinets. These may all be bought from second hand shops and they don't have to look the same, and can have different counter top heights.
Painting them shades of colour that fit into your decor will make this traditional kitchen uniquely your own.
You can then bring it all together with the same type of brass or copper handles and knobs. 
So where do you begin?
Always start with the basics of kitchen design and then do a proper kitchen layout. It is very important to do the basics properly.
Remember that a traditional kitchen in todays terms doesn't mean it has to be a big square with all the shelves fitted on a wall and a big yellowwood kitchen table in the middle. You can use all the modern techniques and layouts. Traditional is more about the style than the layout; remember what I told you here.
The layout of the kitchen and choosing the style are two different design functions.
Layout determines where things are placed in order to make the kitchen more functional, whereas style is the visual statement..... it involves choosing textures, shapes, colours and lighting....in this case you have chosen traditional!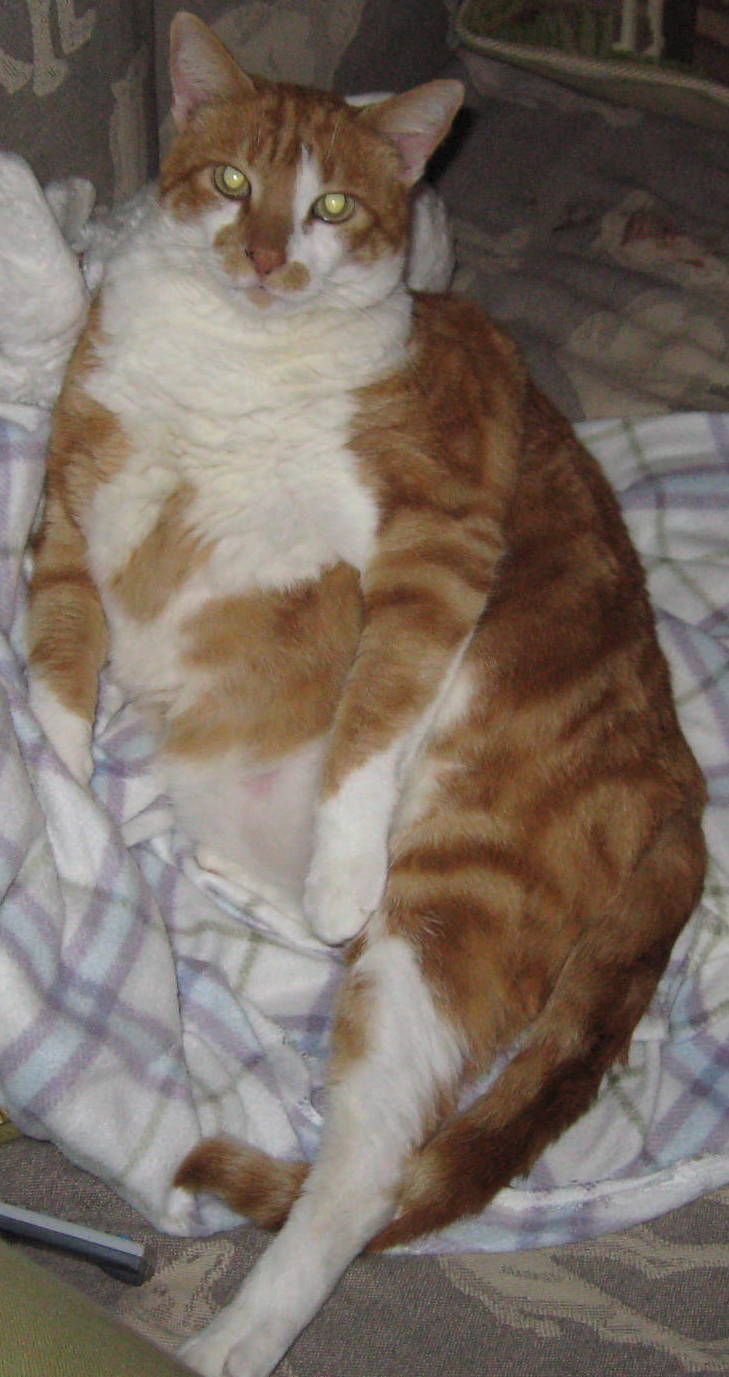 Here are some other ideas to trigger your creative side:
Opt for old-fashioned storage as conventional units look more modern,
Avoid steel and glass, old-fashioned furniture works best,
A bit of clutter in a traditional kitchen is not the end of the world, so make displays of jars full of jam, baskets with eggs or potatoes,
Hang pots and pans from the walls, or
as friends of mine did; they hung a beautiful old oregon pine wooden structure above their island with all their useful utensils hanging from it. This not only created additional hanging space, but also gives their kitchen that unique feel they so love.
The lighting, but that I mention in more detail a bit later,
And then of course your designer pet..... an old, lazy black Labrador or a ginger cat like Harry here (he just loves lying on the couch in the sun, fat tummy and all).
---
Traditional Kitchen Design..... Counter tops
Stone, and especially granite, has taken the kitchen counter top market by storm. Granite is extremely hard and durable and I think it fits perfectly into the "modern" version of the traditional kitchen.
It is cold to the touch, but can withstand heat, so no more worrying of where to place the warm pots and pans. No more screaming at the kids to bring a hot plate protector.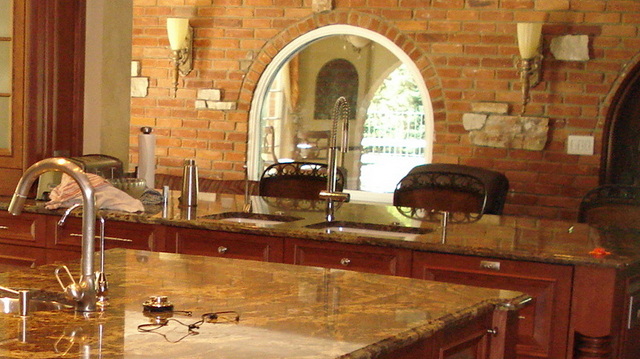 Earthy tones, like shown here in this photo, infuse this kitchen with warmth and it blends perfectly with the bare brickwork behind it.
Because it is quarried all over the world, granite is available in almost any colour and pattern, so I am sure that you will find the perfect fit for your new kitchen. Another suggestion I have is to incorporate a movable island.
An antique kitchen worktable can be a flexible, stylish centerpiece which adds some open storage as well.
Just because an island is not build in, doesn't mean it is insubstantial. Replace the top with matching granite, and you have a beautiful additional work space.
---
Traditional Kitchen Design..... Flooring options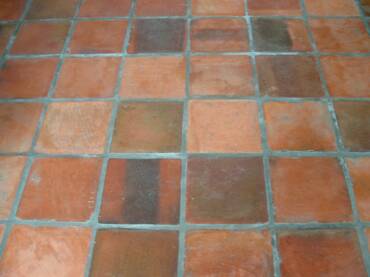 For me, handmade terracotta tiles are still the most desirable option. I just love the feel and the look of them.
It reminds me so much of the old farm houses, and if you combine terracotta with some bright colours, it will be a real winner.
And then there is wood.....
Because the kitchen is intimately connected to the rest of the house, wood is a perfect option as it seamlessly connects the living area with the kitchen. It adds to the warmth and it is very durable, as it can be refinished again and again.
Traditionally (this was now when I was still young, in about 1854.....LOL) all homes in Cape Town (and surrounding areas) were fitted with yellowwood (the rich people) and oregon pine (the middle class people) floors and ceilings.
Most people who are modernising their homes these days, remove all this old wood. There are therefore many places where you can source old planks and re-use them in your kitchen. And I am sure that it is a worldwide trend, so go on the internet and search for those beautiful old wooden planks and furniture that is just waiting to be discovered and brought back to life in your kitchen.
Salvaged planks that are installed and finished professionally (I don't mean some "professional" does the work, I mean it is done professionally) are the ultimate traditional kitchen floor covering and will add immense value to your home.
The longevity of a wood floor is directly linked to it's upkeep though. Frequent cleaning with a damp mop, quick attention to spills and minimising dog and high heel traffic (I know, I know..... how is that possible you ask?) I just say..... but if you can't minimise that, then I suggest you sand and reseal it more often. Maybe every second year instead of every four or five years, but obviously that will inconvenience everyone and increase the cost tremendously.
Which brings me to another option..... bamboo. Bamboo is a sustainable material with a unique texture and appearance, not dissimilar from wood.
Hardness and durability vary among different species of bamboo, and not all types work well in the kitchen. It is not as hard as stone, but not as soft as vinyl or linoleum.
It is also very much on par with wood in its ambiance and comfort underfoot and will look stunning in a traditional kitchen.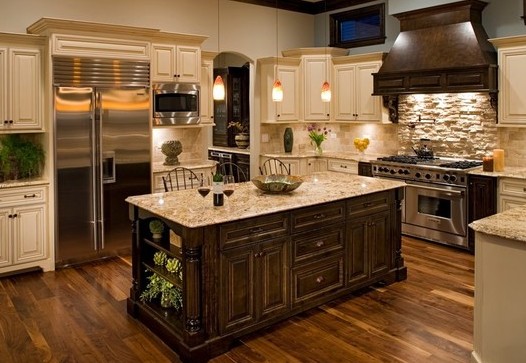 ---
Traditional Kitchen Design..... Lighting ideas
Lighting, both natural and artificial, is the single most transforming element in a kitchen. And in a traditional kitchen, where warmth and comfort is key, it is even more important to design your lighting well.
The key to a successful lighting design is to provide light from several sources and different layers:
windows for natural lighting,
high fixtures like pendants,
low fixtures, and
fixtures that are visible and others that are hidden from view.
By using dimmer switches, you can change the mood in the kitchen when you need to or add that little bit more light when slicing, dicing or cooking.
The thoughtful use of natural lighting is most important though, so take great care to place the windows or skylights in just the right place and with just the right angle to allow for the maximum of natural light to flow into your kitchen
---
Traditional Kitchen Design..... technology to match
Last but definitely not least. Plan your traditional kitchen design to suit your lifestyle, with zones for all your and your family's needs and activities, and the technology to match.
Just because it is a traditional kitchen, it doesn't mean that you shouldn't incorporate all the modern technology. Modern-day kitchens (and yes, your traditional kitchen is also a modern-day kitchen) double up as living spaces, media centres and home offices, and thanks to hardworking layouts and finishes, new technology and improved connectivity, the boundaries between rooms are blurring fast.
By assessing your technology requirements in advance, you can create a kitchen with a seamless link between cooking, working and entertaining.
Do you want to:
enjoy music while preparing the food?
control the lighting to suit the mood?
operate your appliances from the sofa while you watch the sport?
many people want a small tv in their kitchen these days, do you?
All of this (and much more) is possible if you plan the installation during your traditional kitchen design phase.
If you treat home automation as an afterthought, you will soon find your beautiful kitchen cluttered. The kids iPods and tablets all need charging, as do the smartphones.
Get the cabling and infrastructure in place now, as it is almost impossible to add more cables for additional electrical outlets once the kitchen is finished, without major upheaval to your daily routine.
The secret to a modern, hi-tech traditional kitchen design is a high quality, reliable wireless broadband signal for all the online shopping, chatting and downloading.
If you think to incorporate the latest in home automation,
Light control,
heating and air conditioning control,
electric blinds,
lift-up TV's, or
movie and music streaming via a tablet or your iPhone,
then I suggest you get the help of a professional home automation company. Make sure they are registered with your local Electronic Design Association and get references if possible. These are one of those when I refer you back to my home page, but because it is so important, I mention it again:
Don't underestimate the knowledge of an industry professional. They may be able to give really good advice! But that doesn't mean to trust them blindly. They may be qualified installers, but remember it is still your home!
You must take control and ensure they do exactly what you need and want. That is the reason you are here in the first place. You want to empower yourself to know enough about home automation so that you can discuss and manage the tasks you are not going to do yourself with the selected trade person, so that you will not be taken for a ride.
Sometimes we may think someone is a "specialist" just because they do the job for a living, but experience has shown me that it is not always the case.
I hope you enjoyed this page while researching and planning your traditional kitchen design, and I wish you well with the implementation.
You can go here for some more photos of traditional kitchens for inspiration, but please send me pictures once you are done with your own traditional kitchen so that I can add them here!
---
Return from Traditional Kitchen Design to Design Your Own Kitchen