Country Kitchen Designs.....

Combine a country design with your modern lifestyle
Country Kitchen Designs..... In our rushed and hectic lifestyles today, the down-to-earth style and lived-in looks of a country kitchen is just what the doctor ordered to come home too after a hectic day at the office. I just love the comfortable and inviting feel of a country kitchen.
While the modern designs that are popular today may be a more tempting option, I believe that the classic, old-world country kitchen designs, can in many ways offer more character to your new kitchen. It is a much more obvious way to display your personal style.
Although a country kitchen falls in the category, "Traditional Kitchens", and for some people this means "old", there is a new fascination with past eras and a tendency to incorporate modern appliances, kitchen layouts and warm colours with old-world charm.
Country kitchen designs will of course mean different things to different people.
If you live in England, the word "country" will probably make your imagination bring up images of the Lake District - beautiful lakes, green fields and mountains.
If you live in Texas or the Australian outback, I imagine you will see vast farmlands with horses and cattle roaming.
In South Africa, whenever I hear the word "country", I think of the area around Worcester in the Western Cape. It is harsh, hot and open, with farmhouses that provide shade and shelter.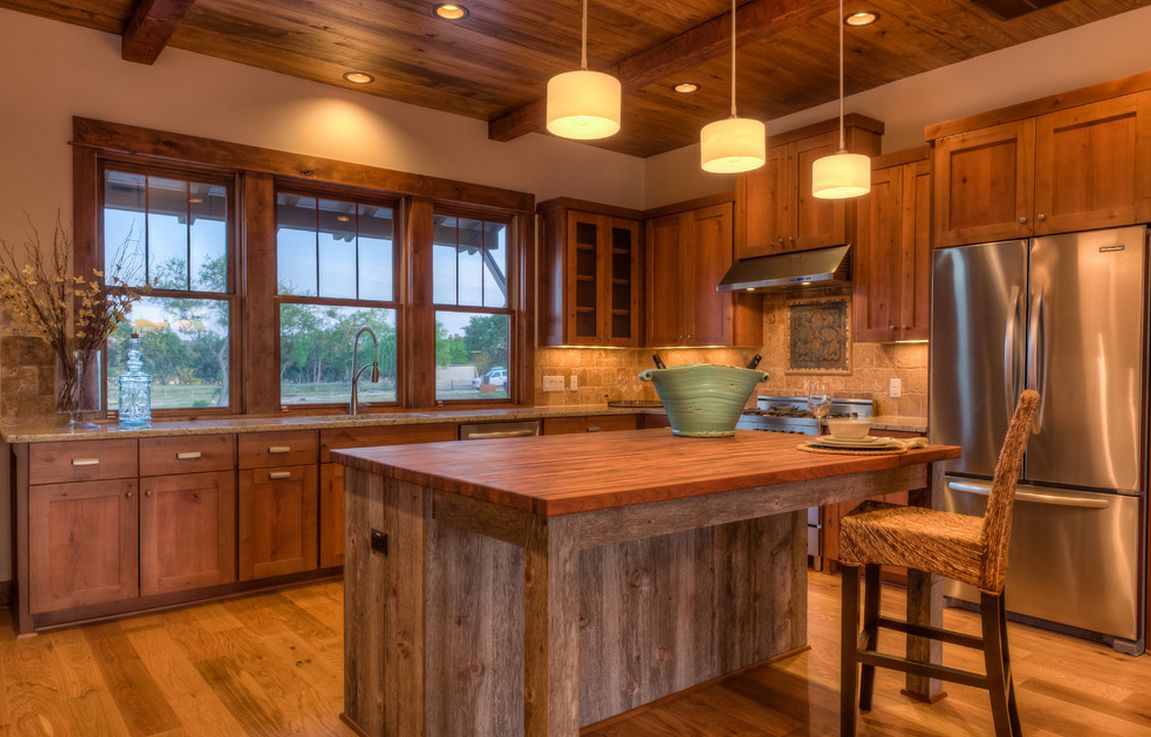 I see a kitchen with beautiful wooden cabinets, floors to die for, earthy colours blended into each other and modern appliances added to the mix for everyday comforts.
This is the country kitchen I imagine..... a big, cosy room with a central coal stove where everyone gathers to drink coffee and eat their meals and just spend time together. Where a family shares their secrets, their dreams, their heartaches and their triumphs.....
I have always preferred rustic designs and the use of warm, earthy colours and textures to create that special effect.
Although Africa may not be best known for its fine architecture, it is very well known for its ruggedness and beautiful landscapes. This is what inspires the selection of materials used in most African country kitchen designs.
The most important things to remember when you design your new country kitchen is:
beauty, 
warmth, and 
simplicity
Do you remember the ultimate goal of any DIY project?
It is to add real value to your home!
A well thought out and practical kitchen is one of the most sought after features in any home.
The traditional kitchen, and in this case the country kitchen design that you will embark on now, must explore the following three main elements:
---
1. Country Kitchen Designs..... personal style
Identify country-style elements that speak to your personal taste. Choose not only classic, but also quirky themes to add some of your own personality. Pair this with a designer touch to get the modern feel, and you will have something special and unique.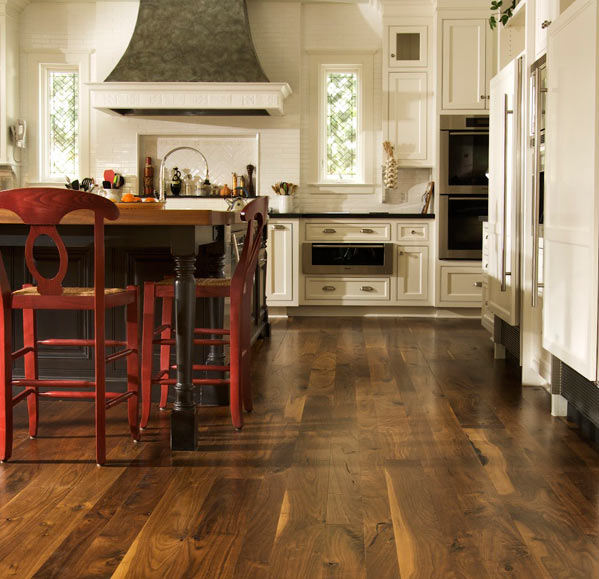 Often an underrated element in kitchen design, and one that can really imprint your own personal style on your new kitchen, is kitchen lighting.
A country kitchen lends itself to showing off items, like small appliances, tools and instruments for cooking, rather than hiding it away. This is where proper lighting design can make all the difference.
Traditionally, the lighting in a country kitchen was centralised, without considering the size of the room or the different functions that we wanted to use the kitchen for. But nowadays, the kitchen has evolved into a multipurpose room. Families cook, eat, relax and work in the modern day kitchen.
Just because you love the look and feel of a country kitchen, it does not mean that we cannot use all the modern design techniques available to us to make it a warm and comfortable space.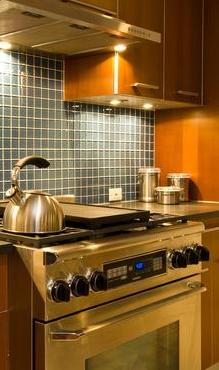 A well-lit country kitchen has a huge effect on the mood of everyone using it. Successful kitchen lighting is layered to create a warm and inviting space.
Lighting, both natural and artificial, is the single most transforming element in a kitchen.
The thoughtful use of natural lighting is important, so take great care to place the windows or skylights in just the right place and with just the right angle to allow for the maximum amount of natural light to flow into your kitchen.
Task lighting above the kitchen table or island will aid in the food preparation and eating activities, while ambient lighting will fill in any shadows. Use flush-mounted ceiling fixtures for the best effect.
By using dimmer switches, you can change the mood in the kitchen when you need to or add that little bit more light when slicing, dicing or cooking.
Develop a theme and add signature pieces as focal points in your country kitchen design. Then accentuate these pieces with accent lighting. Accent lighting creates a sort of third dimension, where specific pieces are illuminated for a dramatic effect.
These pieces can be anything from an artwork to a mosaic splashback. Accent lighting is what really adds drama and individuality to your new country kitchen.
---
2. Country Kitchen Designs..... the use of colour
The most important thing is to use natural materials together with warm, rich shades of colour to make your new country kitchen a welcoming kitchen space for family and friends.
But how to do that?
A country-style kitchen needs an ambience that gives you a restful and homely atmosphere. The easiest way to do this is by the colours you choose.
By combining natural and neutral colours, you will create a solid, traditional mood, and earthy tones and variations of white will diffuse the heaviness of wall to wall cabinets. 
One of the most diverse colours in any decorators arsenal, yellow, lends itself to a host of styles. Yellowish shades, combined with orange, brings a sense of warmth to a room. It illuminates small and dreary spaces due to their higher reflective value.
Virtually all shades within the yellow palette can be matched with a wide variety of other colours - white, red, blue, green and black are the most popular combinations for country kitchens.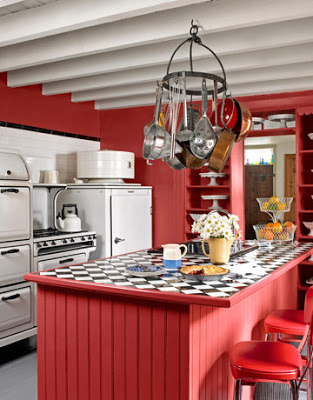 Towards the darker end of the spectrum, the use of natural colours, woody tones and honey browns will bring a sense of warmth, cosiness and comfort. Exactly the feel you want to create with your country kitchen design.
But my favourite for any country kitchen design is to bring in some reds.
No matter what the shade, the colour red always has a dramatic and immediate impact on a room. It is also one of the best colours for creating a warm, welcoming ambience.
Bright reds, berry hues and terracotta shades lend itself to a cosy atmosphere. Red is a versatile, striking colour, yet can be subtle when used for colour effects.
Look at the deep, rich berry tones used in this kitchen on both the walls and the kitchen island for a dramatic, warm feeling.
Colourwashing is also a popular paint technique for creating a beautiful, soft spurt of broken colours with greater depth than plain, flat painting. Equally effective on kitchen cabinets and walls, it is a simple finish with classic appeal that lends itself perfectly to a country kitchen design setting.
---
3. Country Kitchen Designs..... architectural context
Comfort and warmth are the key aspects of a country kitchen design.
Counter Tops.....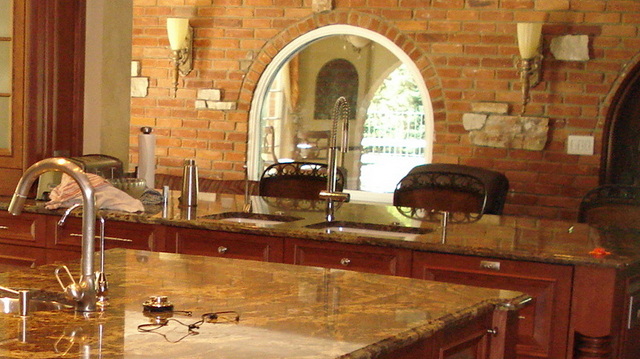 Stone, and especially granite, has taken the kitchen counter top market by storm. Granite is extremely hard and durable and I think it fits perfectly into the "modern" version of the country kitchen.
It is cold to the touch, but can withstand heat, so no more worrying of where to place the warm pots and pans. No more screaming at the kids to bring a hot plate protector.
Earthy tones, like shown here in this photo, infuse this kitchen with warmth and it blends perfectly with the bare brickwork behind it.
Because it is quarried all over the world, granite is available in almost any colour and pattern, so I am sure that you will find the perfect fit for your new kitchen.
---
Flooring Options.....
For me, handmade terracotta tiles is still one of the most desirable options. I just love the look and feel.
It reminds me so much of the old farm houses in the Karoo and Eastern bushveld of South Africa, and if you combine them with some bright colours, it is always a winner.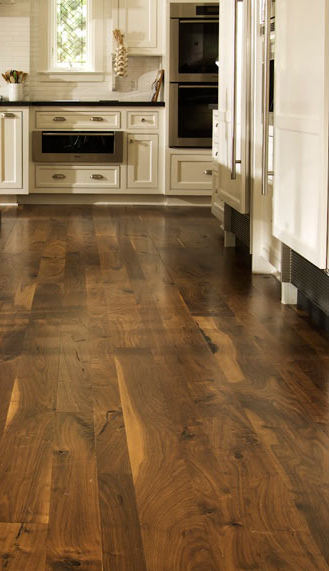 And then there is wood.....
Because the country kitchen is intimately connected to the rest of the house, wood is a perfect option as it seamlessly connects the living area with the kitchen.
It adds to the warmth and it is very durable, as it can be refinished again and again.
Traditionally (this was now when I was still young, in about 1854.....LOL) all homes in Cape Town (and surrounding areas) were fitted with yellowwood (the rich people) and oregon pine (the middle class people) floors and ceilings.
Most people who are modernising their homes these days, remove all this old wood. There are therefore many places where you can source old planks and re-use them in your kitchen.
And I am sure that it is a worldwide trend, so go on the internet and search for those beautiful old wooden planks and furniture that is just waiting to be discovered and brought back to life in your kitchen.
Salvaged planks that are installed and finished professionally (I don't mean some "professional" does the work, I mean it is done professionally) are the ultimate kitchen floor covering and will add immense value to your home.
The longevity of a wood floor is directly linked to it's upkeep though. Frequent cleaning with a damp mop, quick attention to spills and minimising dog and high heel traffic (I know, I know..... how is that possible you ask?) I just say..... but if you can't minimise that, then I suggest you sand and reseal it more often. Maybe every second year instead of every four or five years, but obviously that will inconvenience everyone and increase the cost tremendously.
Which brings me to another option..... bamboo. Bamboo is a sustainable material with a unique texture and appearance, not dissimilar from wood.
Hardness and durability vary among different species of bamboo, and not all types work well in the kitchen. It is not as hard as stone, but not as soft as vinyl or linoleum.
It is also very much on par with wood in its ambiance and comfort underfoot and will look stunning in any country kitchen.
---
Technology to match.....
Last but definitely not least. Plan your country kitchen design to suit your lifestyle, with zones for all your and your family's needs and activities, and the technology to match.
Modern-day kitchens (and yes, your country-style kitchen is also a modern-day kitchen) double up as living spaces, media centres and home offices, and thanks to hardworking layouts and finishes, new technology and improved connectivity, the boundaries between rooms are blurring fast.
By assessing your technology requirements in advance, you can create a kitchen with a seamless link between cooking, working and entertaining.
Do you want to:
enjoy music while preparing the food?
control the lighting to suit the mood?
operate your appliances from the sofa while you watch the sport?
many people want a small tv in their kitchen these days, do you?
All of this (and much more) is possible if you plan the installation during your traditional kitchen design phase.
If you treat home automation as an afterthought, you will soon find your beautiful kitchen cluttered. The kids iPods and tablets all need charging, as do the smartphones.
Get the cabling and infrastructure in place now, as it is almost impossible to add more cables for additional electrical outlets once the kitchen is finished, without major upheaval to your daily routine.
The secret to a modern, hi-tech kitchen design is a high quality, reliable wireless broadband signal for all the online shopping, chatting and downloading.
If you think to incorporate the latest in home automation,
Light control,
heating and air conditioning control,
electric blinds,
lift-up TV's, or
movie and music streaming via a tablet or your iPhone,
then I suggest you get the help of a professional home automation company. Make sure they are registered with your local Electronic Design Association and get references if possible. These are one of those when I refer you back to my home page, but because it is so important, I mention it again:
Don't underestimate the knowledge of an industry professional. They may be able to give really good advice! But that doesn't mean to trust them blindly. They may be qualified installers, but remember it is still your home!
You must take control and ensure they do exactly what you need and want. That is the reason you are here in the first place. You want to empower yourself to know enough about home automation so that you can discuss and manage the tasks you are not going to do yourself with the selected trade person, so that you will not be taken for a ride.
Sometimes we may think someone is a "specialist" just because they do the job for a living, but experience has shown me that it is not always the case.
I hope you enjoyed this page while researching and planning your country kitchen design, and I wish you well with the implementation. Please send me pictures once you are done with your own  kitchen so that I can add them here!
Visit these pages for photos of country kitchen designs for more inspiration.
---
Return from Country Kitchen Designs to Design Your Own Kitchen