Kitchen Interior Designs...
Create a warm, cozy hub for
the family to enjoy.....
Kitchen Interior Designs.... a perfect modern kitchen is one that harmoniously balances a striking aesthetic appeal with utmost convenience and functionality..... whoa, that is a mouthful, but it is so true, I just had to start this way!
Which boils down to this.....
In today's modern lifestyle, and the stresses that comes with it, many of us crave for a simpler way of living. We want spaces that are not only functional, but also warm and calming. So when you do your new kitchen interior design, keep this in mind.....
Do you know why I love my kitchen?
Because there is a place for everything and everyone! It is warm and cozy and everyone loves to gather there.
I spent months planning, designing and making sure I thought of everything.....
Then I re-planned, did some more research and eventually I could feel it in my gut.....
I could FEEL when I came to that final kitchen interior design.....
This is exactly what I want and what my family needs....
No proper kitchen interior design happens by accident. It takes time and effort. You need to look at your old kitchen and then decide which problems you need to solve.....
But the good news is that you too van have the kitchen of your dreams!
Let's work together and create something spectacular for your new kitchen interior design.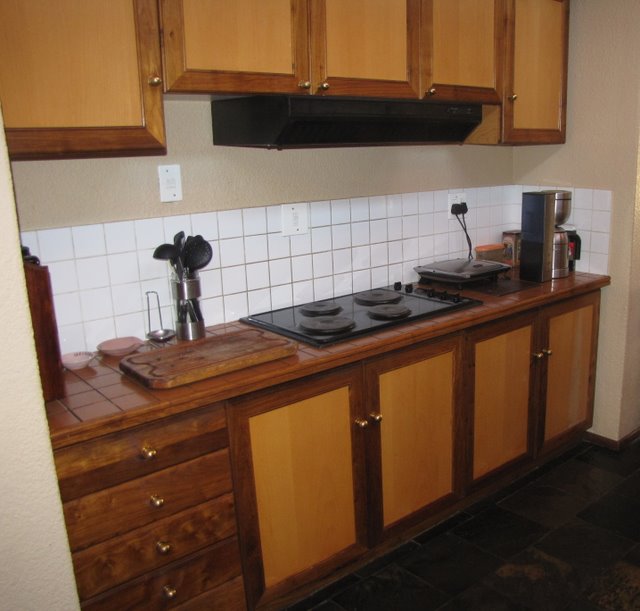 Lets look at the top 7 steps for beautiful kitchen interior designs.....
If you consider these 7 steps and bring your own flair and creativity into the mix, you WILL have a beautiful, functional hub where all your friends and family will spent many happy hours together!
---
1. Planning the kitchen and working your plan
There is a subtle art to setting up your kitchen interior design that functions to its fullest capacity. And by "fullest capacity", I mean the capacity that your family requires.....
For your kitchen layout to be a success, it is essential that you plan in meticulous detail.
One of the most important things you must keep in mind when you do your kitchen interior design, is that it must suit your lifestyle and your needs.
One of the first things to do when you start with your kitchen interior design, is to list all the items and accessories you would like to have in the kitchen, such as:
Stove (gas, electric or combined),


Oven (

eye-level or floor-level if combined with the stove)

Overhead hob,

Refrigerator,

Washing machine (if you have a 

separate

 laundry then this will obviously be fitted in there, and the same with the tumble dryer),

Tumble dryer,

Dishwasher,

Sink (single or double),

Microwave,

Other smaller accessories like kettle, toaster, bread maker, ice machine (the list can be endless) - this will determine how many electrical plug points (electrical outlets for my visitors not familiar with the "slang" we use in South Africa) you must plan for.
Remember that space and proper layout is of utmost importance, and one of the things that most people regret once they have installed their new kitchen is the fact that they do not have sufficient counter space, so number two on the list is.....
2. Making room to work
Modern kitchen interior designs dictate that your kitchen counters must be uncluttered and easy to clean, while also contributing to the beauty of your kitchen.
Counter tops can either make a statement or they can fade away into the background. So choose wisely and make the tops part of the overall visual image you want to create.
Make sure that you have enough counter-top work space. One always needs more space than what you initially think.
A lot of counter-top work space is taken up by utensils and small appliances used during the food preparation, so while you do your kitchen layout design, keep this in mind.
When the kids then also want to do their homework at the counter-top, you will suddenly be frustrated with the little space that is now available for preparing that special meal.
Keep in mind that the appliances need power to operate, so decide now where the most convenient place will be to place them, so that the electrical outlets can also be planned.
Another trend is to install counter tops at different levels for different tasks. For cutting and chopping one wants a higher counter top, but for kneading and baking, you will need a lower one again.
3. Proper layout
The layout of the kitchen and choosing the style are two different design functions.
Layout determines where things are placed in order to make the kitchen more functional, while style is the visual statement you want to make.
When you decide on your kitchen layout design, it is best to go for a tried and tested kitchen layout. 
The size and shape of your kitchen will obviously have a major influence on the way your kitchen will be laid out, so depending on the size of your kitchen, decide on one of the basic configurations for the space available.
You can always combine design configurations too. Nothing stops you from adding a small island to a one row kitchen. Even if the space is limited, this may just give you that little extra work area you require.
For a lot more detail on the different kitchen layout designs you can choose from, follow this link and see what will suit your needs best, whether it be a.....
Single Line Kitchen,
L-Shaped Kitchen,
An Island Kitchen, or a
U-Shaped Kitchen.
And don't feel constrained by the concept of the kitchen triangle if it doesn't work for you.
Sometimes it is best to colour outside the lines and this may just be what the doctor (or in this case, it will be the sjef..... wink, wink) ordered for your kitchen.....
Once you have decided on your layout, you need to give some thought to other areas in the kitchen too in order to create flow and make the space work at it's optimum.
Where will the rubbish bin go?

Remember it must be taken out regularly, so you either need it close to the door leading outside or you can install a shoot from next to the sink to a bin just outside the kitchen. This will make for a hygienic kitchen work space as you never have old food and rubbish inside the kitchen.
Do you need a communications area where the telephone, iPad or PC must be stationed?

The modern family needs constant communications with each other and also access to the internet..... for that special recipe that you need for a romantic dinner, or just to see what movies are on TV tonight.

This will require more electrical outlets, so plan how you will conceal the cables and wires. One thing I hate is a messy work area and there is nothing that makes a place look more messy than electrical cables all over the place. It is also a hazard, especially if you have small kids around, so plan this well.

You can also incorporate a place for mail, hooks for keys, and a space for magazines and the newspaper in this communications area.

4. Sufficient storage
Your kitchen cabinet design is an essential part of the functioning of your kitchen; too little storage space is not only irritating, it also creates unnecessary clutter.
Cabinets are the backbone of any kitchen. The kitchen cabinet layout determines the traffic patterns for the entire room and their size, appearance and construction will influence your choice of flooring and counter tops.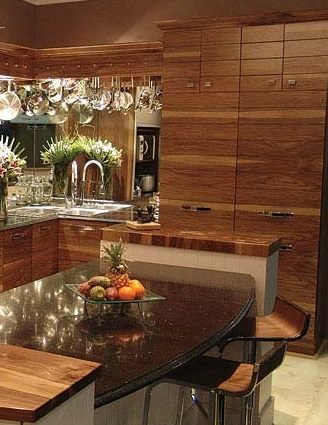 The cabinets are one of the first elements to catch your eye and draw you into the kitchen. But it is also the most difficult to design, as one almost always feels "deprived" of enough storage space once the kitchen is complete.
The kitchen has to accommodate a lot of equipment and it is always difficult to keep it clutter free. With some careful planning however, you can find a home for everything.
Here are some very handy tips that will help you to create that clutter free kitchen, while you still have everything handy when needed.
The first thing I always recommend is to use pull-out units rather than swing doors, as you can see used in this kitchen pictures above.

That way you have access to the back of each and every cupboard and utilize all the space.
Think about your current kitchen..... 
The cupboards are so deep, but you just cannot use all the space as you can never reach the back and one tends to forget what is behind the second row of the washing powder. I often bought cleaning materials just to find somewhere in the back of a cupboard three others of the same item.
Use every bit of available space for storage. Dead space is wasted space, so use it as storage.

Use the backs of unit doors.

Mount as much as you can against the wall to free up floor space; like the ironing board.
Use awkward corner spaces for the vacuum cleaner and cleaning materials, although this isn't really an issue if you have pull-out units.
Then instead of having a drawer at the top of each unit, stack all the drawers together in one carcase. This allows for more space and flexibility in the other units.

Also go to my kitchen cabinet ideas for even more inspiration.
5. Lighting
When it comes to kitchen interior designs, your kitchen lighting is extremely important as it must make it easy to see what your are doing, but it should also create a beautiful ambiance for those long get-togethers for family and friends.
Good lighting is an absolute must for the kitchen where people use sharp knives and handle pots with boiling liquids.
The use of natural and artificial lighting is what sets your kitchen apart and transform it into that space where everyone wants to be.
The key to successful lighting is to use different sources - obviously windows are the best source for natural lighting.
Don't only have fixtures against the ceiling. Have some low hanging fixtures too, especially above the island and then also fixtures that are hidden from view, like down lighting above the kitchen counter tops.
Kitchen lighting is divided into different categories:
Ambient,

Task,

Accent, and 

Decorative.
For much more detail on the above categories of lighting, please visit my kitchen lighting design page.
6.  A focal point
For me, the kitchen island is what really sets the modern kitchen apart from the old 1970's and 80's styles and around these are where most of our family memories are made.
So make the kitchen island your focal point!
If you don't have an island fitted in your kitchen, choose a corner where you can place some stunning art work or hang a beautiful picture. Something that draws the eye and something that sets your kitchen apart from any other kitchen ever designed.
7. And then some more tips, hints and snags to avoid
Just a few pointers I want to highlight here before we go into deeper design detail for the different styles of kitchen interior designs you may want to consider.
Incorporate some of the features of the rest of your home into your new kitchen.

Continuity and flow can be achieved by using colours and materials that appear elsewhere in your home.

When flooring options and wall colours are matching throughout the house, it contributes to the overall visual effect.


Resist the temptation to be trendy!

It is much better to stay with timeless and classic. It is fine to go with dramatic and quirky,

IF it fits

in with the rest of your home, BUT remember that a kitchen is a huge expense and the chance that you will change the style in a hurry is very slim, so choose something that will add value to your home and you will not get tired off quickly.


It is always good to work with what has worked for others.

O

n the following pages I will show you some more beautiful kitchen interior designs and styles that have been used all over the world with great effect.....
Farmhouse Kitchen,
Country Kitchen,
Classic Kitchen,
Luxury Kitchen,
Contemporary Kitchen,
French Kitchen,
Small Kitchen,



Use them, and your

own imagination,

and create your

own unique style

based on one of these.
---
Return from Kitchen Interior Designs to Design Your Own Kitchen