Kitchen Tile Design Ideas.....

Tiles are back with a vengeance
Kitchen tile design ideas.....when tile design, furnishings and personal taste comes together, you can create beautiful tile designs in your kitchen, whether on the floor, the wall or as a back splash.
Quality and style should be your only priority when you research ideas for kitchen tile designs. Depending on your personal taste, combining textures with different colours (whether bright or more subdued, earthy shades) from the floor to the wall, is definitely a way to create kitchen tile design ideas with a contrast.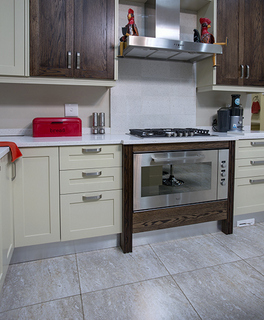 Tiles are hardy. They wear well, can handle water, steam and heat and they are easily cleaned, so they are a perfect choice for any kitchen, whether small or modern, country or rustic, traditional or tuscan.
Apart from being practical, they also play a huge aesthetic role. They provide colour, pattern and texture.
Tiles can be laid on any stable, level base and thanks to new adhesives and grout, are reasonably easy to lay yourself (wall tiles are easier to lay than floor tiles though, so start there first). Just make sure the grout is flush with the tile, otherwise dirt will gather in the cracks.
As the tiles you choose will be living with you for a long time, make sure you select wisely.
Plain, neutral colours are the obvious choice, as they blend easier into the overall look of your kitchen and home.
It is also much easier (and obviously cheaper) to bring colour in through some other means, like painting the walls or the cupboards, as this type of decor can be replaced almost as often as you like if you get tired of the look.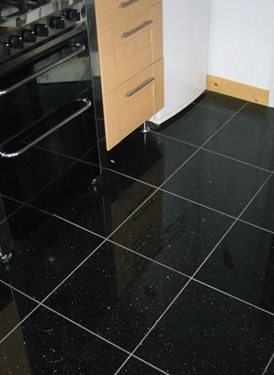 However, tiles in bold colours make a strong statement, especially when they are used to create interesting patterns.
If you want to create patterns, tiles are extremely flexible because you can angle them into diamonds. Or add a border to create a contrasting effect. You can also consider painting some of the cabinets or kitchen furniture to match.
Light can and will reflect off the shiny surfaces of ceramic tiles, so keep this in mind when you plan your kitchen lighting design.
Consider using a mirror, or mirror tiles as part of your kitchen tile design, as they are great for making a room seem bigger or to create a focal point.
With so many choices of tiles available, I know it can be a daunting task to decide what you want to use where.
But to make it a little bit easier, narrow your choices down by first deciding on the size of tile you want to use, then if you want patterns or not.
The choice of colour is usually the easiest, as you will either select colours to match your existing decor, or you can be bold and make a statement with really colourful tiles.
---
Kitchen Tile Design Ideas..... backsplashes for effect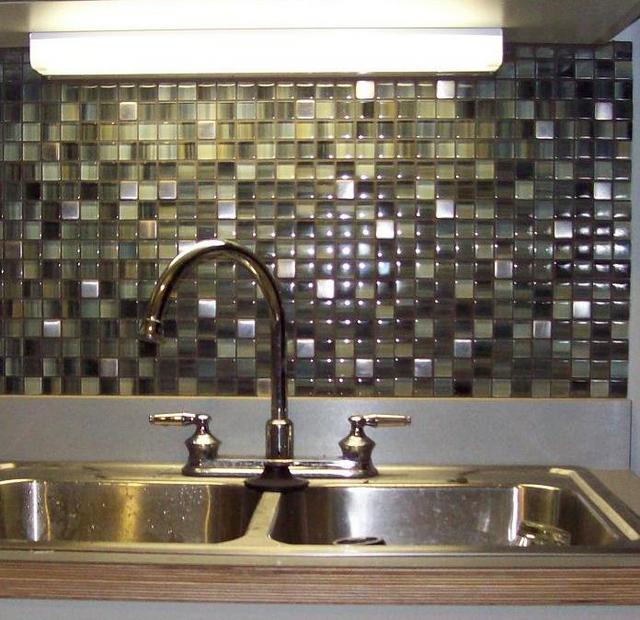 Mosaic has grown in popularity over the past few years, and is continuously evolving in terms of design with huge variances in patterns, styles and colours. I just love the effect mosaic tiles give to a kitchen backsplash.
They are made of ceramic or opaque glass and are extremely useful to create effect.
I always try to incorporate them somewhere in my kitchen tile design ideas, and the backsplash is the perfect place as you can bring in some colour or a bold effect, while keeping the rest of the tiles more neutral.
It is much easier to change the backsplash every now and again (when you feel like a change or need a small project for a Saturday afternoon) than all the tiles in the kitchen.
Or mosaic can be used in strips for a border only. It is a time consuming exercise, and it takes some skill, but can be very satisfying and they will give your kitchen backsplash that special look to set it apart from any other kitchen tile design.
Just watch this well-produced video to see how easy it is to do mosaic backsplash tiling yourself.
---
Kitchen Tile Design Ideas..... walls with attitude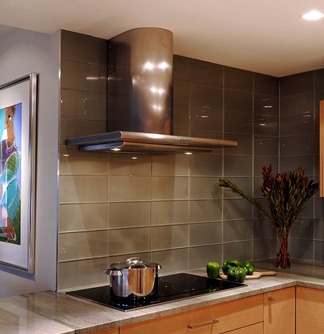 Ceramic wall tiles are back with a vengeance in the kitchen decor world. There is an array of exciting and bold design statements. For a while I thought their design life was over, but I am really impressed with the new trends the companies have come up with.
Shape is as important as colour when you select your tiles. Wall tiles are mostly square, but you can use them in combinations of rectangles, diamonds, or hexagons to create your own unique kitchen tile design.
Modern ceramic tiles come in a wide range of coloured glazes and patterns, and these days they also come in different shapes and thicknesses. Think about the proportions of your kitchen and choose your tiles accordingly; the larger the room, the bigger the tiles can be.
You can also combine different sized tiles to create a modernistic and creative wall design. The new ranges are designed to be compatible, and give huge flexibility for layout when you plan your new kitchen tile design.
You won't believe it, but metallics are a popular trend (remember I am from Africa.... I just love the warm earthy tones, so metallics are not really my thing, but I hear you groaning and yes I know, we all are different and I respect that, hence the mention thereof here) in the decor and architectural world and this trend has definitely influenced the tile revolution too. You will find solid metallics as well as shiny patterns for any kitchen tile design ideas you could ever imagine.
It is really exciting times for us DIYers and we can really add immense value to our homes with all the latest trends in kitchen tile designs for relatively little money.
Ceramic tiles are definitely moving with the times and they are once again on the forefront of setting the trend in kitchen tile design.
Remember that floor tiles are thicker and heavier than wall tiles, so make sure you select the correct ones.
---
Kitchen Tile Design Ideas..... floors to make a statement
Ceramic floor tiles..... you will be well advised to consider this age-old favourite for your kitchen tile design, as the popularity of this type of floor covering is really on the rise again.
For some time ceramic tiles had tough competition, especially against the advances of wooden, laminate and new industrial-styled applications such as terrazzo flooring.
Fortunately for the tile market, one of their continued strengths over the years is the fact that their product is available for indoors as well as outdoors. This allows for a seamless flow from your indoor kitchen space to your outdoor kitchen space.
Some of the other materials don't have this flexibility, especially in harsh environmental conditions, because of their poor resistance to the elements.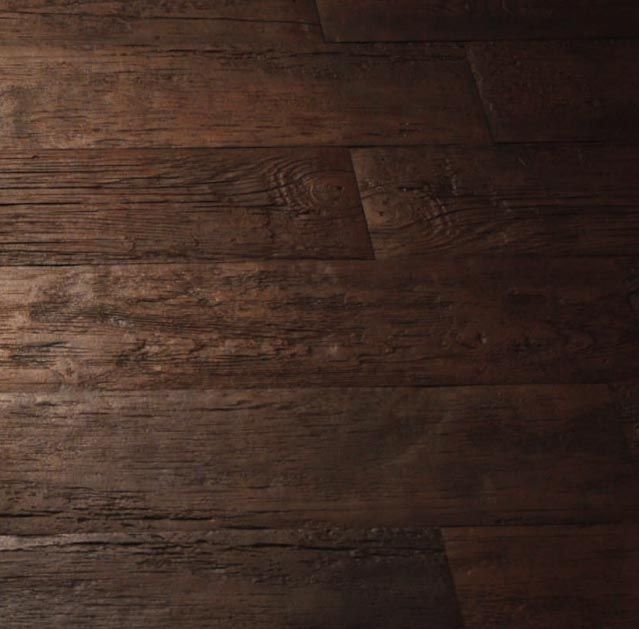 When the ceramic tile market then started experimenting with floor tiles that resembled wooden flooring, in an attempt to win back some of their market share, was when our possibilities really started to open up for kitchen tile design ideas.
This is a really effective product for spaces where it is not practical or cost effective to use real timber or engineered products.
A perfect example is a kitchen flowing over into an outdoors entertainment area. What better product to use as it flows seamlessly from indoors to outdoors with no maintenance whatsoever, yet you have the effect that a real wooden floor would give.
The latest styles so closely imitate the real macoy, that you will be hard stretched to realise you are not walking on timber unless you investigate closely. It looks like solid timber with the same texture and imperfections.
There are literally hundreds of new designs. The white-washed options are sought after, but the popular styles that were dominant in the laminate floor industry, are obviously a brilliant choice too.
I love the darker wood stained laminate floors, but these ceramic tiles are so much more practical, especially in the kitchen as they are much more hard wearing.
Whether you like the resembled wooden floor tiles or not, you will never be at a loss for choice as tiles are no longer restricted to just neutral colours.
Whatever your desire, when you plan and research your unique kitchen tile design ideas, you will find at you local distributor.
I personally recommend you lay the floor tiles before fitting the kitchen cabinets as it is easier, and if you want to move anything later, you don't have to retile the floor. This is an extra expense though (as you waste some tiles that are hidden under the cabinets), so it is up to you to decide when you want to do the tiling.  Just remember that there are no hard and fast rules.
You make your own rules
---
Return from Kitchen Tile Design Ideas to Design Your Own Kitchen