Modern Kitchen Designs.....

Kitchens with a twist
Modern Kitchen Designs..... What characterises the modern kitchen today? This is a question I have asked myself quite a lot recently, and I have come to some conclusions:
I don't think that it is about the style!
I don't think that it is about the appliances you choose!
I don't think that it is about the materials you use!
"So, what is it then?" you will ask me now.
Well, I think the modern kitchen designs of today are characterised by our lifestyles more than by the way they look.
The kitchen is primarily a functional space, so it can take on a modern identity without compromising the overall feel of your home. Even if the rest of your home is fairly traditional in style, it will not matter that much. You can incorporate your modern requirements into any kitchen style.
Look at this beautiful kitchen Kobus and Ilze had installed in their new home. Where the dark wood panelling and the terracotta tiles blend with the sleek and modern cabinets.
The ultra modern glass splash-back and the appliances all work together to create a modern kitchen design with old-world charm.
What I am trying to tell you is that you can still have a modern kitchen, even if you decide you want a traditional or a Tuscan look.
This is what I meant.....
A modern kitchen design with a twist
In today's hectic lifestyles it is important to have a place where the family can come together to chat, or have a cup of coffee, or just to sit and relax while we all prepare a meal together after a hectic day. And this is where the modern kitchens of today tick all the boxes.
The wonderful thing about modern kitchen designs is the fact that we can combine any style with our modern needs for convenience, beautiful appliances and latest technology.
Of course certain materials and certain styles are more modern than others. Then add some of your personality, paired with a designer touch to get the modern feel, and you will have something unique and special.
A well thought out, and practical modern kitchen, is one of the most sought after features in any home.
Remember my saying..... the ultimate goal when you do any home improvements is to add real value to your home.
Modern Kitchen Designs..... the latest trends
The modern kitchen is characterised by up-market, modern interior design elements. The latest trends are driven by our desire for convenience, ease of use and beautiful aesthetics.  
Things like:
Frameless cabinets,
seamless countertops,
touch-close cabinet doors and drawers, (they don't need handles therefore look sleek and elegant)
cabinet doors that slide open, or even
cabinet doors that flip up.
Although many designers think a modern kitchen shouldn't have any ornamentation, I still believe that the correct ornaments, or a colourful painting like the one Bernice has mounted to her kitchen wall, brings out your individual style.
It gives the kitchen that unique feel only you can create; something that sets it apart from any other kitchen out there.
---
Using metal to dazzle.....
One trend that is very modern, and which has become a firm favourite in recent years, are metal unit fronts.
It is perfect for the industrial kitchen look, and stainless steel units are now available; choose from top-quality designer kitchens or opt for something more affordable. You will definitely find something that will fit into your modern kitchen design.
Here are some advantages of going for the  metal look:
Metal or stainless steel is relatively easy to keep clean, very hygienic and durable,


Shiny surfaces, like metal and stainless steel, are reflective, and will maximise the effect of natural light,


It comes in different varieties and textures; a matt look which will give your kitchen a contemporary feel. It also reflects less light, so may be an option if your are worried about too much glare.

There is one disadvantage that I can think of though. Metal can look a bit hard and utilitarian, so it is important to bring in some warmth.... what better way to temper the look, than bringing in rich shades of colour, or use it with softer materials such as wood, to make it a welcoming kitchen space for family and friends.
---
Using glass for effect.....
Glass makes for great see-through storage and fits into any modern kitchen design. Glass shelves are less obtrusive than wooden shelves and create a good display space without blocking any light.
Using glass inserts in cabinet doors is a very popular choice and will give a lighter, more modern feel to your kitchen than solid wood.
Choose any finish you like; frosted, ribbed or wired. Or you can leave it clear to create a window into your cupboards to display your tableware or glasses. Or show your creative side and display some colourful decorative ornaments.
Such units work especially well at eye-level, and if you install LED lighting on the inside, it is a beautiful feature and will be a focal point.
---
Integrating appliances for a streamlined, modern feel.....
The appliances you choose greatly influence your kitchen layout and style. Integrating appliances into your modern kitchen design will result in a streamlined effect where your cabinetry and worktop surfaces will take centre stage.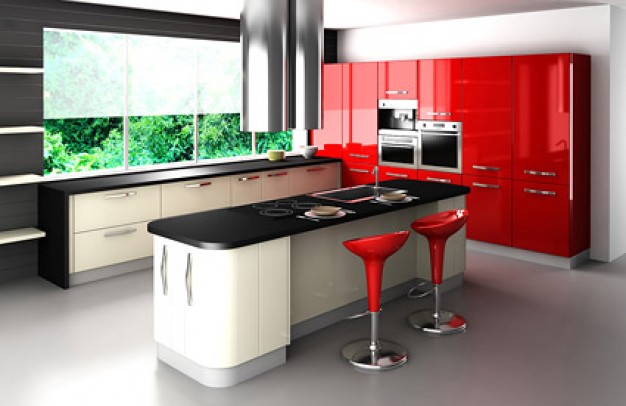 Eliminate clutter and select appliances that will boast the modern look and feel. A hob with a ceramic cooking surface, such as many induction hobs have these days, will blend in seamlessly with your kitchen worktop.
Hiding the functional parts of your kitchen will definitely create a more defined look with a modern feel.
Refrigerators, microwaves and dishwashers become invisible when integrated into the cupboard system.
In modern kitchens it is important to create symmetry. For example, a cooker as the focal point, should be centred with cabinets on either side for a balanced look, which is central to modern styling.
---
7 More Ideas to create a modern, contemporary look.....
Opt for clean-lined units without handles. Keep it simple.
A floating island in an open plan kitchen gives a very modern look.
Use only sliding unit doors.
Install a streamlined sink in stainless steel or stone with modern taps.
 Use lighting cleverly.
Hide everything behind closed doors as uncluttered surfaces are key for a modern kitchen.
Floors should be sleek. Use concrete or white-washed floorboards. Definitely not ceramic tiles, although marble will also work beautifully if it falls within your budget.
Remember, less is more
---
Last but not least, design for communications.....
Last but definitely not least. Plan your modern kitchen design to suit your lifestyle, with zones for all your and your family's needs and activities, and the technology to match.
Modern-day kitchens double up as:
living spaces,
media centres, and
home offices,
and thanks to hardworking layouts and finishes, new technology and improved connectivity, the boundaries between rooms are blurring fast.
By assessing your technology requirements in advance, you can create a kitchen with a seamless link between cooking, working and entertaining.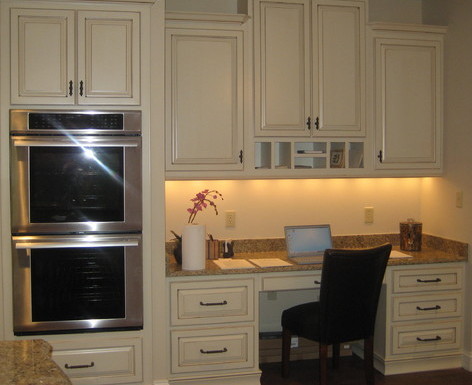 Do you want to:
enjoy music while preparing the food?
control the lighting to suit the mood?
operate your appliances from the sofa while you watch the sport?
install a small tv in your kitchen?
All of this (and much more) is possible if you plan the installation during your kitchen design phase.
If you treat home automation as an afterthought, you will soon find your beautiful kitchen cluttered. The kids iPods and tablets all need charging, as do the smartphones, and this can quickly become a tangled mess of wires and chargers.
Get the cabling and infrastructure in place now, as it is almost impossible to add more cables for additional electrical outlets once the kitchen is finished, without major upheaval to your daily routine.
The secret to a modern, hi-tech kitchen design is a high quality, reliable wireless broadband signal for all the online shopping, chatting and downloading.
If you think to incorporate the latest in home automation,
Light control,
heating and air conditioning control,
electric blinds,
lift-up TV's, or
movie and music streaming via a tablet or your iPhone,
then I suggest you get the help of a professional home automation company. Make sure they are registered with your local Electronic Design Association and get references if possible.
Don't underestimate the knowledge of an industry professional. They may be able to give really good advice!
But that doesn't mean to trust them blindly. They may be qualified installers, but remember it is still your home!
You must take control and ensure they do exactly what you need and want. That is the reason you are here in the first place. You want to empower yourself to know enough about home automation so that you can discuss and manage the tasks you are not going to do yourself with the selected trade person, so that you will not be taken for a ride.
Sometimes we may think someone is a "specialist" just because they do the job for a living, but experience has shown me that it is not always the case.
I hope you enjoyed this page while researching and planning your modern kitchen design, and I wish you well with the implementation.
Please send me pictures once you are done with your own kitchen so that I can add them here!
---
Return from Modern Kitchen Designs to Design Your Own Kitchen